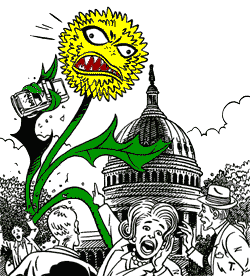 We at Mediaite have long been proud of the garden of commenters that we have grown over the years. We deeply appreciate those of you who take the time to post intelligent, thought-provoking comments. You are the flowers of our lush, if cacophonous, garden.
However, we've recently noticed (as I'm sure you have) an influx of weeds (and not the good kind). These weeds are choking our garden. When people post inappropriate comments, they not only destroy the platform for intelligent conversations, but scare off people who would have made comments that contribute positively to the site.
Commenting at Mediaite presents unique opportunities for our readers. Mediaite's readership includes most of the figures we write about, so a welcoming, astute comments section has the potential to give you a voice that you might not have on other sites. Yes, the subjects of our stories do read the comments sometimes.
Furthermore, Very few websites offer the level of interaction with writers that is possible here. Responding to comments can be rewarding for them, as well as for you. Bearing in mind that this type of interaction is undertaken in their own free time, though, you can see how personal insults and inane infighting could be a poor incentive.
So from now on, it is going to be my responsibility to prune the garden. I'm the girl in that picture above who is screaming at you (I realize that a dandelion doesn't mesh perfectly with my gardener analogy, but stay with me here) . I will be pruning with no political stance, but will be doing so aggressively. If I think your post is inappropriate based on the intentionally vague guidelines below, I'll call it a weed and delete it. But if your post is interesting, it will stay and I might even comment back. So essentially I will be managing the community that has developed on our commenting boards. Feel free to reach out to me if you feel that I've erred, but yes, I am the judge and jury.
That is not to say that we want to discourage criticism or disagreements. We welcome them, and we encourage you to express them with wit, humor, and even a little bit (okay, a lot) of bite. If this seems to conflict with our guidelines, it shouldn't. Think of yourselves as loud guests at a series of dinner parties here at Mediaite, and act accordingly. At first, we might be a bit cautious with each other, but as we get acquainted, things will loosen up a bit.
Let it be known that we're pruning because we love our community and want to encourage people to post. So post away, but please be sure to follow the guidelines below from here on out.
Posts that are NOT okay:
– Any posts that are personal insults directed to the author of the piece
— Any posts that are personal insults directed at another commenter
– Any post that uses profanity
– Any post that contains racism, homophobia, sexism, etc.
– Any post that I judge to deviate too greatly from the topic of the story
– Any post with spam.
These may sound basic, but you'd be surprised how many are violating these terms. With that in mind… Happy posting! We look forward to hearing from you.
Have a tip we should know? tips@mediaite.com