'Loser': On His Way Out the Door, Paul Ryan Faces the Wrath of Op-Ed Writers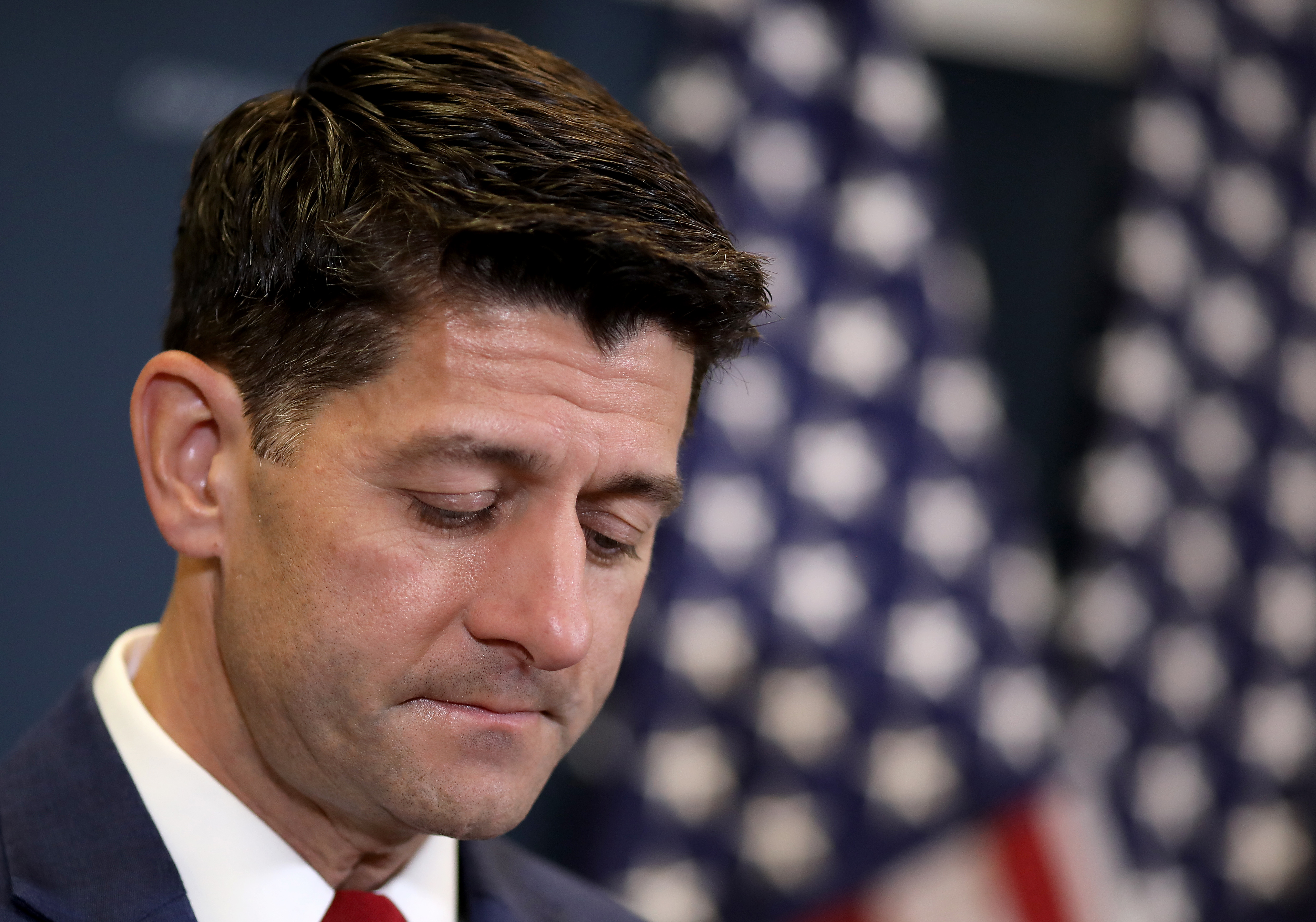 House Speaker Paul Ryan (R-WI) is set to retire from Congress at the end of his term in January, leaving behind a Republican party that is unrecognizable from the one he joined at the start of his promising career in 1998.
The reluctant House Speaker, in his farewell address this week, lamented the "broken" state of American politics. But according to the op-eds written to memorialize Ryan's departure, it appears the Wisconsin Republican is the broken one. His tenure was marked by lofty promises to reform entitlements and reign in spending — two goals that he is leaving mostly unrealized. Critics noticed.
The shanking from fellow cheesehead Charlie Sykes is sure to sting the most. Sykes, a conservative commentator and never-Trumper, bitterly recalled a time when Ryan was the "future of the Republican party" in his Washington Post op-ed.
Ryan, who Sykes writes was once the "complete package" as a young congressman, torpedoed his legacy with the "decision to make a Faustian bargain with Trump" that "shaped conservatism's trajectory."
The Speaker tut-tutted Trump during the 2016 campaign. But, "like the rest of the GOP, Ryan came around, becoming an ally, a cheerleader, an enabler," Sykes writes. Pair that capitulation with his inability to do anything about entitlements and a ballooning deficit, and Ryan's "tenure has been a disappointment."
"History is unlikely to be kind," Sykes writes. "And it was heartbreaking."
The Washington Post has in fact published an eye-popping quantity of brutal Ryan obits. Liberal Post columnist Paul Waldman bid good riddance to Ryan in a scathing piece that decried his "unceasingly vicious and cruel" policies and "budget flimflammery." The Post's Jonathan Capehart, who says in his piece he once had "high hopes" for Ryan, asks what happened to his "ideological and moral conviction."
Post general assignment reporter Avi Selk described Ryan's farewell with two very Trumpian adjectives: "small, sad."
In the New York Times, opinion columnists Gail Collins (liberal) and Bret Stephens (conservative) tore into Ryan in their fortnightly conversation.
Collins: He's only 48 but just has 'loser' written all over him."
Stephens: "History will remember Paul Ryan as the mouse that squealed."
Over at The Atlantic, Dick Polman summarized Ryan's "compromised legacy": "The retiring House speaker leaves behind a near-trillion-dollar debt and a Trumpian GOP."
"He leaves Congress with his conservative ideals in tatters."
At Bloomberg, political columnist Jonathan Bernstein adds a "good riddance" to the tally. "He was unusually dishonest, a fraud as a wonk, and a terrible match for the job," Bernstein sums it up.
Liberal outlets, naturally, wielded machetes against Ryan's legacy: HuffPost: "Paul Ryan Was Always More Political Hack Than Policy Genius"; The Week: "His political objectives are morally abhorrent, as was the method he tried to achieve them"; Vox: "Blaze of nonsense."
Ryan's home state papers have been equally unsparing. John Nichols, progressive editor for Wisconsin's Capital Times, wrote that Ryan should be "apologizing" to his hometown of Janesville. "House Speaker Paul Ryan did not have the courage to run for re-election in 2018," Nichols writes, adding his farewell tour has been "embarrassing." In September, the Cap Times editorial board accused Ryan of "steering politics into the gutter."
Some editorials were kinder than others. In The Washington Examiner, conservative writer Quinn Hillyer described Ryan's ideals as "unrealized." Hillyer is optimistic, still, writing that he hopes Ryan will keep up the good fight in his retirement.
[Photo by Win McNamee/Getty Images]
Have a tip we should know? tips@mediaite.com
Aidan McLaughlin - Editor in Chief