Louis C.K. Draws Outrage For Mocking Parkland Students in Audio of Controversial New Comedy Set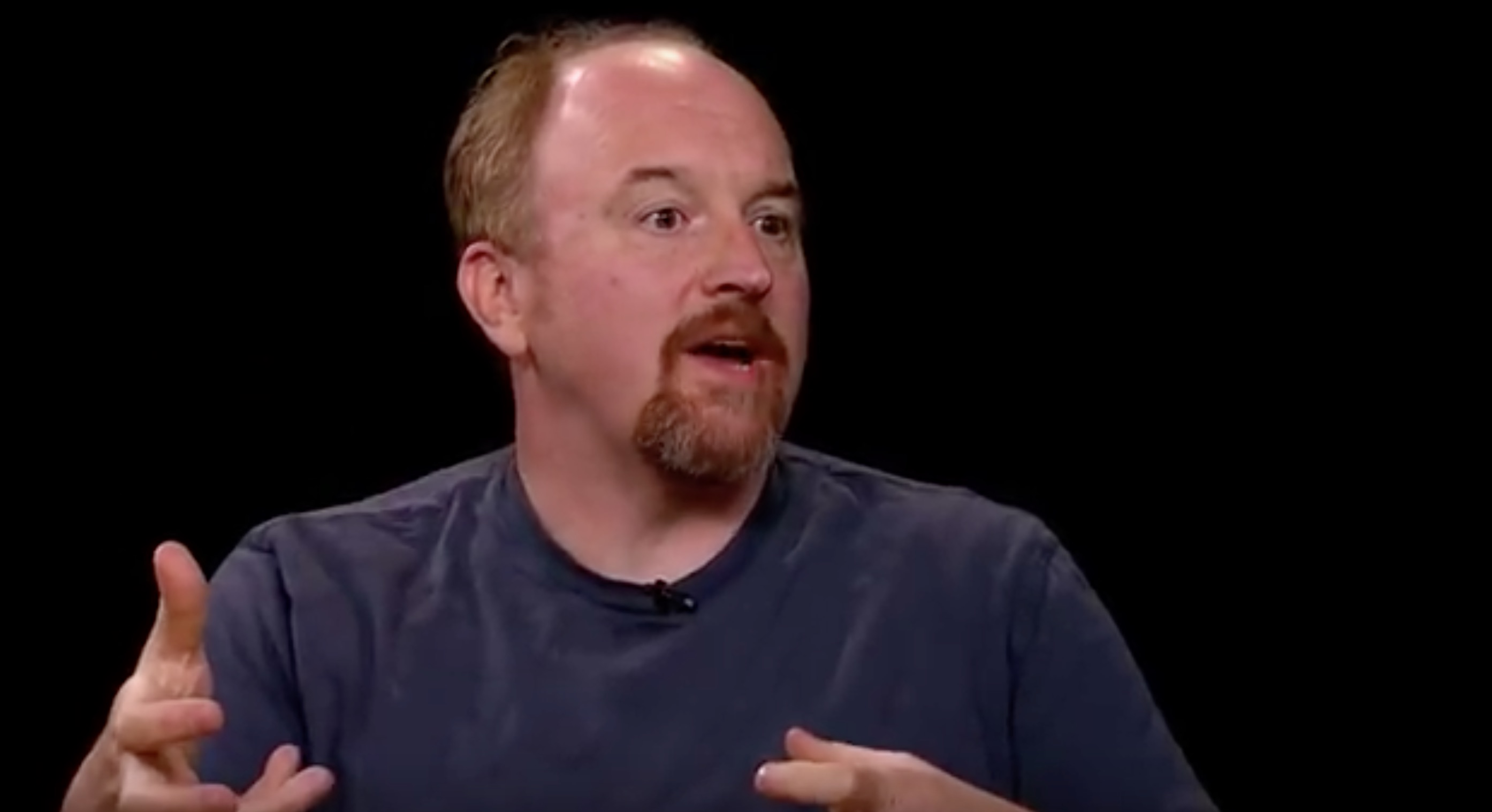 Louis C.K., who has been laying low since he was accused of sexual harassment and abuse in 2017, is drawing new fire for a controversial comedy set — audio of which was leaked online.
In the audio, from a recent set at Governor's Club on Long Island, New York, Louis C.K. jokes about a series of controversial topics, from the Parkland shooting, to gender neutral language, to his own scandals.
On the Parkland shooting, where a gunman opened fire at a Florida high school, killing 14, Louis joked:
"Testify in front of Congress, these kids, what the fuck? What are you doing?" he asked. "You're young, you should be crazy, you should be unhinged, not in a suit… you're not interesting. Because you went to a high school where kids got shot? Why does that mean I have to listen to you?"
"You didn't got shot, you pushed some fat kid in the way, and now I've gotta listen to you talking?"
Those jokes earned the disgraced comedian some scathing criticism from the survivors of the shooting:
Louis C.K, although taking jello shots & eating mushrooms might have been ideal for you when you were 18, that is not the luxury that we have after having to see our friends and classmates in caskets because of preventable gun violence. https://t.co/Hx5cGoxOPn

— Kyra Parrow (@longlivekcx) December 31, 2018
Hey Louis CK – since you like making fun of me and other Parkland survivors behind closed doors, I'm right here if you want to talk. Just try to keep it in your pants, ok?

— Aalayah Eastmond (@AalayahEastmond) December 31, 2018
To anyone who knows Louis CK, please deliver this message for me. My daughter was killed in the Parkland shooting. My son ran from the bullets. My wife and I deal with loss everyday. Why don't you come to my house and try out your new pathetic jokes? https://t.co/tZI9ThSciR

— Fred Guttenberg (@fred_guttenberg) December 31, 2018
Louis C.K. also joked about younger people calling for the use of certain pronouns.
"They're like royalty!" C.K. exclaimed. "They tell you what to call them. 'You should address me as they/them, because I identify as gender-neutral.' Oh, OK. You should address me as 'there' because I identify as a location. And the location is your mother's cunt."
The owner of the comedy club defended Louis C.K.'s set to Daily Beast reporter Kevin Fallon:
Just talked to James Dolce, owner of Governor's Club where Louis C.K. performed: "It's comedy. You know who you're coming to see. The people who were upset about it probably weren't at the show. He got a standing ovation. He brought the house down. He's a genius."

— Kevin Fallon (@kpfallon) December 31, 2018
Others, including fellow comedians Judd Apatow and Andy Richter, were less sympathetic:
This hacky, unfunny, shallow routine is just a symptom of how people are afraid to feel empathy. It's much easier to laugh at our most vulnerable than to look at their pain directly & show them love and concern. Louis CK is all fear and bitterness now. He can't look inward. https://t.co/aQVG0rk87y

— Judd Apatow (@JuddApatow) December 31, 2018
among other things the louis ck thing just isn't funny. one of his jokes is, "my gender is your mom's [vagina.]" great stuff dude, this would've whipped in 10th grade

— christmas cheer liz bruenig (@ebruenig) December 31, 2018
That Louis CK audio isn't even edgy, it's an old conservative ranting about how in his day no one was woke and things were great

— Nathaniel Friedman (@freedarko) December 31, 2018
"I'm gonna show that I'm not afraid to mock this upsetting thing that most ppl don't find funny" is not brave. It's not hilarious because it offends some people. It's a FORMULA, and an increasingly lazy one.

— Andy Richter (@AndyRichter) December 31, 2018
Now there's a lot of revisionist history about Louis' work, mainly that he was never funny. That is not true. Years ago Louis could be stone cold brilliant. About relationships. About parenthood. About the fucking human condition. That's why this is all such a bummer for me.

— Andy Richter (@AndyRichter) December 31, 2018
Good for Louis for figuring out a way to alienate and horrify an audience without showing anyone his penis.

— Bess Kalb (@bessbell) December 31, 2018
Louis C.K. "joke" about heroic Parkland kids was as tasteless as could be but not a huge surprise. He's made a career of that.
But shouldn't audiences decide to show up or not?
De facto censorship isn't the answer.
Let the market decide!https://t.co/t37JoCcoBn

— David Axelrod (@davidaxelrod) December 31, 2018
what Louis CK makes me think about is how easy and safe it is for just about any rich white dude to pivot, instantaneously, all the way to being Basically Donald Trump Now the very moment any other pose becomes even slightly less personally gratifying than he feels entitled to

— Auldbert Langsyneko (@AlbertBurneko) December 31, 2018
why would I pay money to see Louis CK when I could click on any random YouTube video and read the comments for the same experience

— JuanPa (@jpbrammer) December 31, 2018
Some, however, defended the comedian, insisting the new material is just as edgy and funny as the comedy that made him a star.
Guys, Louis CK didn't change. You did.

— Emily Zanotti (@emzanotti) December 31, 2018
When someone says "Louis CK wasn't always like this!" that's how you know they haven't watched much Louis CK stand-up. Yes, he was. His schtick is an abrasive jerk dragging ppl he thinks are young or entitled or stupid. If that's not your bag, I get it, but trust — it ain't new.

— Jerry Dunleavy (@JerryDunleavy) December 31, 2018
"I would happily blow 20 guys in an alley with bleeding dicks so I could get AIDS and then fuck a deer and kill it with my AIDS."
-Louis CK, who I am told just pivoted to offensive edgelord humor as part of a right-wing swing to save his career, in a special released in 2008

— Jesse Singal (@jessesingal) December 31, 2018
Have a tip we should know? tips@mediaite.com
Aidan McLaughlin - Editor in Chief