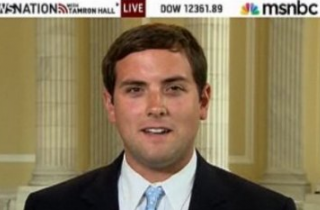 NBC political reporter Luke Russert already takes enough flak for reasons typically involving phrases like "dudebro," "inexperience," "arrogance," and "nepotism." And after Tuesday evening's Mississippi GOP Senate primary runoff, we can probably add "goofy analysis" to the pile.
As "establishment" incumbent Republican Thad Cochran is poised to defeat tea party challenger Chris McDaniel, purportedly with help from Democratic and African-American voters (Mississippi is an open primary), Russert had this hot take to share with America:
Only in #USA can a 76yr old white man from #Mississippi be the Republican who figured out how to turn out African-Americans for #GOP

— Luke Russert (@LukeRussert) June 25, 2014
So… only in America could something that could literally only happen in America happen. Unless some other country has a Republican Party, a state called Mississippi and — somehow — a significant population of African-Americans, Russert's analysis makes zero percent sense. Or maybe it was a bizarre attempt at humor.
Either way, he took a beating from left and right:
.@LukeRussert maybe because the US has most of the African-Americans? And all of Mississippi?

— Tom Kludt (@TomKludt) June 25, 2014
Someone should hire this genius: https://t.co/DkiGmckUEW

— jeremy scahill (@jeremyscahill) June 25, 2014
In the future, all takes will be #smarttakes.

The future is now https://t.co/ypGhfJpxtu

— John McCormack (@McCormackJohn) June 25, 2014
This is true, only in Americaa can a political campaign happen involving votes from African-Americans. https://t.co/fFCKVbXrkS

— Andrew Kaczynski (@BuzzFeedAndrew) June 25, 2014
Only in America can something happen that by definition can only happen in America > https://t.co/cNV7XAmVP9

— Josh Marshall (@joshtpm) June 25, 2014
For his part, Russert told one random Twitter user (while not directly addressing any of his detractors) that the tweet was simply a reference to Don King's Only in America:
. @manderson9692 You got it, the snarkers on Twitter didn't get the Don King reference, glad somebody did. Take care.

— Luke Russert (@LukeRussert) June 25, 2014
— —
>> Follow Andrew Kirell (@AndrewKirell) on Twitter
Have a tip we should know? tips@mediaite.com