Major Garrett Talks Juan Williams On Morning Joe: FNC Embraces "Polarization"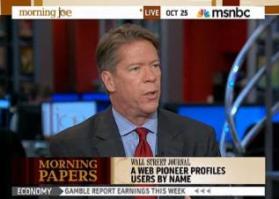 MSNBC's Morning Joe welcomed National Journal Executive Editor Ron Brownstein and NJ correspondent Major Garrett this morning, the day the magazine and web site relaunched.
Of course, Garrett on Morning Joe is the headline – and he spent the first eight minutes talking about Fox News' Juan Williams, offering a unique perspective.
The former Fox Newser Garrett was introduced by Joe Scarborough, who said "for a lot of leftists, you're going to always be the guy that worked at Fox."
Garrett described the ways he used to work to combat that, and also spoke about conversations he had with Williams. "NPR was increasingly unhappy with it because it was getting blowback with some of its listeners," he said of Williams' role on FNC.
Then, there was this insight, which will be a Nikki Finke "Toldja" moment for left-wing blogs:
For a certain amount of marketing points of view, Fox actually wants to keep that polarization. They can say look, we're different. We're dramatically different, you can see how we're different. And if you like that difference you better come over here and you better stay here. That is an embedded part of the marketing that surrounds what happens in the news division at Fox.
It's a surprising statement, but not necessarily as damning as it sounds. It's no secret that Fox News sees itself as different – an alternative. Only they see it as being "fair and balanced." Even Garrett's argument was in the context of NPR being part of the very same polarization.
Mark Halperin asked Garrett how much FNC is going to use this to its advantage. "I don't think it's any coincidence that the day it happened, he got a huge contract at Fox," said Garrett. "Fox planted a flag in the ground saying, 'he's ours.'" Also: "That is an embedded part of Roger Ailes' DNA."
Garrett teased his appearance on Twitter last night. Since his FNC exit a couple months ago, he has appeared on several networks, including Fox News and MSNBC. But this appearance feels like a departure from his original plan, which he told us was not "to be a reporter who goes on cable to talk about anything that I haven't reported on specifically."
Here's Garrett's segment, including the discussion about the new National Journal (and a joke about Bill O'Reilly):


—–
» Follow Steve Krakauer on Twitter
Have a tip we should know? tips@mediaite.com