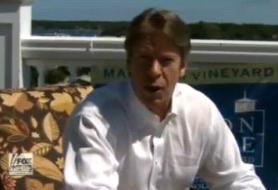 Fox News White House correspondent Major Garrett is leaving Fox News Friday, and starting at National Journal later this month.
In an exit interview of sorts on Twitter last night, Garrett addressed many outstanding issues that have been raised by his followers.
Armed with only 140 characters, the Q&A stayed brief. But there were a couple topics that Garrett hadn't yet addressed. One of the major points of interest is the seat Garrett is giving up – the front row briefing room chair Fox News just landed. Someone asked why he's leaving the new seat. "Coincidental opportunity," he wrote. "Timing just fell this way. At WH, it's what you ask, not where you sit…I'm happy Fox has new seat. I never personalized it. It is the network's seat, not mine. Reflects dedication to beat over the years."
Also, while FNC announced Wendell Goler and Mike Emanuel will split the White House duties in Garrett's absence, it sounds like it is just a temporary solution. Garrett wrote, "My replacement hasn't been named."
Other notes: Garrett won't be writing any opinion pieces for National Journal, he'll miss the "intensity of TV deadlines, immediacy of medium" and he will not be writing a book about his time at Fox News (although, he writes he would "love to" write another book. "Hear that PUBLISHERS?!?!").
Garrett also did his final "Ask Major" video for FoxNews.com last week. Here it is:


—–
» Follow Steve Krakauer on Twitter
Have a tip we should know? tips@mediaite.com