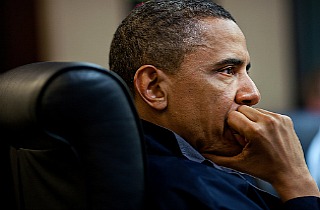 The White House could not be happy with the results of the latest CNN/ORC survey. The poll shows that, as a result of the problematic implementation of the Affordable Care Act, majorities no longer believe in President Barack Obama's competency or trustworthiness.

According to the latest CNN/ORC poll, only 46 percent of respondents view Obama as a "strong and decisive leader" – a record low. This finding is even lower than the 48 percent mark Obama hit in September, 2011 in the immediate wake of America's historic credit rating downgrade. 53 percent told CNN/ORC pollsters they do not view Obama as a decisive leader.
RELATED: Poll: Two-Thirds of Americans Want 'Unpopular' Obamacare to Go Forward
Similarly, record numbers of people now they do not belie Obama "inspires confidence." Just 44 percent told CNN/ORC pollsters they are inspired by the president while 56 said that they do not find the president inspiring. In September, 2013, 49 percent said they were inspired by Obama while only 50 percent said they were not.
For the first time, a majority told CNN/ORC pollsters that they do not believe Obama is trustworthy. 46 percent believed Obama to be trustworthy and honest while 53 percent did not.
By a 20 point margin, the public no long believes Obama "can manage the government effectively." 60 percent told pollsters they do not believe Obama is a competent manager while only 40 percent said they did. In June, 47 percent believed Obama was an effective manger of government while 53 percent did not share this point of view.
The poll was not all bad news for the president. 71 percent told pollsters Obama is "likable" compared to just 29 percent who said he is not. 52 percent said they believed Obama "cares about people like you" while 48 percent insisted that he does not.
[Photo via BLANK ]
— —
> >Follow Noah Rothman (@NoahCRothman) on Twitter
Have a tip we should know? [email protected]
---