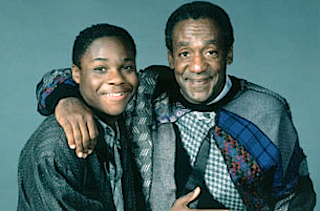 Malcolm-Jamal Warner, who spent eight years playing Theo Huxtable, is the latest Cosby Show cast member to offer up a tepid defense of Bill Cosby in the face of numerous sexual assault allegations. In a new interview with Billboard the actor-turned-Grammy-nominated spoken word artist said that it's "painful" to watch his TV father go through this public shaming.
"He's one of my mentors, and he's been very influential and played a big role in my life as a friend and mentor," Warner said. "Just as it's painful to hear any woman talk about sexual assault, whether true or not, it's just as painful to watch my friend and mentor go through this."
"I can't really speak on any of the allegations because obviously, I was not there," he added. The Bill Cosby I know has been great to me and great for a lot of people. What he's done for comedy and television has been legendary and history-making. What he's done for the black community and education has been invaluable. That's the Bill Cosby I know. I can't speak on the other stuff."
RELATED: Larry Wilmore Convicts Bill Cosby in the Court of Public Opinion
In many ways, Warner's comments echo those of his fellow Cosby Show castmates, who were hesitant to judge the comedian based on accusation from dozens of women.
"Ultimately, they're just that, allegations," Keisha Knight Pulliam, who played Rudy, told the Today show earlier this month. "You know, it's very much been played out in the court of public opinion. But we're still in America, where ultimately you're innocent until proven guilty. I wasn't there. That's just not the man I know. So I can't speak to it."
"What you're seeing is the destruction of a legacy. And I think it's orchestrated," Phylicia Rashad said in an interview that same week. "I don't know why or who's doing it, but it's the legacy. And it's a legacy that is so important to the culture."
[Photo via screengrab]
— —
>> Follow Matt Wilstein (@TheMattWilstein) on Twitter
Have a tip we should know? tips@mediaite.com