Martha Stewart: 'I Have the Same Feelings As Rappers,' I Just Express Myself Differently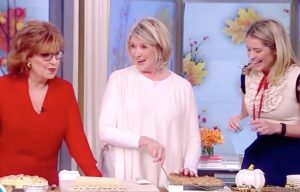 If you work at a cable-monitoring site, the best part of your year is the holidays for one single reason: Martha Stewart. She is the queen of holiday baking. She is the queen of holiday crafts. Martha Stewart is the queen, full stop. Today, she demonstrated that by stopping to say hi to the ladies of The View and making a bunch of different pies while she chatted with them. She moved from table to table, making pies and small talk. Notably, she talked about her new show with Snoop Dogg, which is dinner party-themed and involves them cooking and eating with other famous people.
The last time she talked about Martha & Snoop's Dinner Party on a daytime talkshow, she ended up revealing that she's sexted quite a bit, so it was clear going into this that her stint on The View would be great.
After observing that someone had done serious and unforgivable damage to a pie crust and fighting Joy Behar on her assertion that store-bought crusts are even acceptable, let alone good, here's what the home-ec maverick revealed about her relationships with Snoop and his music:
I love rappers. I like the music, actually. I like the poetry. I have the same feelings that rappers have but I have never expressed myself that way.
She went on to say that Snoop knows how to cook and the goal of their show is teaching others.
She also got huge cheers for sprinkling confectionary sugar on the top of a pie.
What a day.
[image: screengrab]
Have a tip we should know? tips@mediaite.com