'Time For a Tree and a Rope': Texas Judge Responds to Arrest of Killer of San Antonio Cop
A Texas judge's reaction to the arrest of the man who recently killed a police detective in San Antonio invoked imagery of lynchings in the not-too-distant American past.
Commenting on a Facebook post from the San Antonio Police Department on the arrest of Otis Tyrone McKane for the shooting death of Det. Benjamin Marconi, Burnet County Judge James Oakley left one simple comment — "Time for a tree and a rope." McKane is black.
The comment has since been deleted, but according to the Austin Stateman, a screenshot was grabbed prior to him taking it down.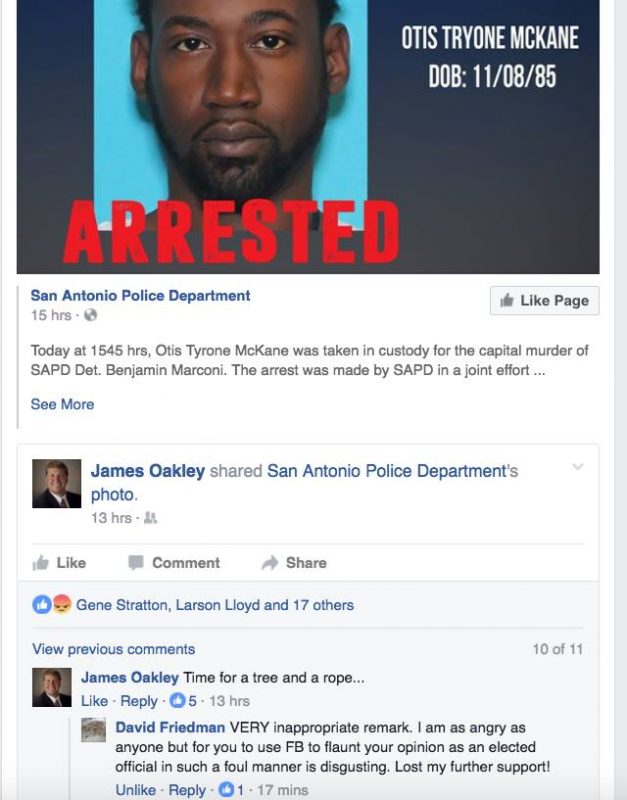 The post is no longer on County Judge James Oakley's Facebook page, but a screenshot shows that the comment was posted from his personal Facebook account. Oakley did not immediately respond to requests for comment via Facebook and email Tuesday evening.
A political opponent of Oakley's, Larry Landaker, posted the following on his blog along with the screengrab from Oakley's Facebook page:
What Mr. Oakley suggested was racist. A sitting County Judge in Texas has suggested that a black man accused of a crime in Houston, TX should be lynched. Do the members and employees of PEC agree with Mr. Oakley's statement? Do the people of Burnet County? I trust they do not agree. I hope they believe America to be a nation of laws and due process. The accused is entitled to a defense before a jury, however heinous the accusations against him may be.
Marconi was shot and killed by McKane on Sunday morning during a traffic stop. After McKane was arrested without incident, he stated that he "lashed out at someone who didn't deserve it" over anger he had over a custody battle.
[image via screengrab]
–
Follow Justin Baragona on Twitter: @justinbaragona
Have a tip we should know? tips@mediaite.com