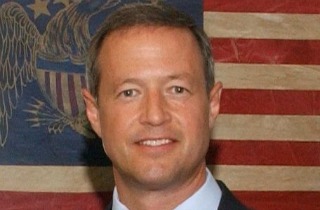 We here at Mediate are, to be blunt, getting really frigging tired of people falling for stupid fake news sites, The Daily Currant chief among them. These sites aren't like The Onion, there's little evident humor in the content of these fake reports, just a relatively straightforward presentation of something fake. Hence why people fall for it.
And the latest victim of one of these sites is presidential candidate Martin O'Malley.
Today O'Malley released a policy paper on Wall Street laying out specific reforms, but it got a lot of attention today for a reason that had nothing to do with Wall Street: one of his citations.
According to Time, O'Malley cited a Daily Currant story headlined "Eric Holder Takes $77 Million Job With JPMorgan Chase." Here's one of the paragraphs in that report, just to give you some idea of what he was citing:
"We are extremely pleased to have Eric Holder, a dear friend and and tireless advocate for the interests of Wall Street, join our prestigious financial services firm where he belongs," Dimon said in a press release. "Considering the awful s**t we did — and boy did we do a lot of sleazy, ugly, ethically insidious s**t — Mr. Holder always stood in our corner and defended us no matter what. Hell, I even got a 74 percent raise out of it!"
An O'Malley spokesperson told Time, Errant footnotes are just a small side effect of putting out the most comprehensive policy paper of any 2016'er on Wall Street." They ended up fixing the paper.
[image via screengrab]
— —
Follow Josh Feldman on Twitter: @feldmaniac
Have a tip we should know? tips@mediaite.com
Josh Feldman - Senior Editor