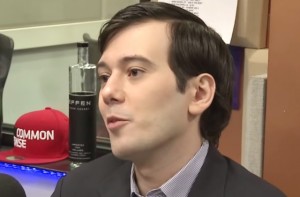 On Sunday, "pharmaceutical bro"/cartoon villain Martin Shkreli was the talk of Media Twitter for his harassment of Teen Vogue writer Lauren Duca, which led to his being suspended from the short-form social platform. After Shkreli asked Duca in a direct message to be his date at Donald Trump's presidential inauguration next Friday, she tweeted a screenshot of the DM while commenting "I would rather eat my own organs." Shkreli then proceeded to plaster his account with crude Photoshops of himself on dates with Duca, which led to the suspension. While Shkreli had turned down Business Insider's request for comment, he did open up to conservative political website The Daily Caller.
"It's sort of a double standard," Shkreli alleged. "She has harassed me a lot, and I just kind of give it back to her, and that's when she tells her followers to report me and what not." Shkreli also claimed that his intention was not to harass Duca, but instead to make fun of his own "teenage crush," saying that he thought the addition of a pink background made this readily apparent.
Shkreli further asserted that his tweets were not a response to Duca rebuffing his advances, but instead a reaction "taken[ing] my private message and blast[ing] it out to the whole world" along with the "vile comment" about eating her own organs.
Mediaite has reached out to Duca to see if she has any further rebuttal to Shkreli's latest comments, and we will update this post if we hear back from her.
Have a tip we should know? tips@mediaite.com