Matt Damon Denies Trying to Kill 2004 Weinstein Story, Ex-NYT Reporter Backs Actor's Claim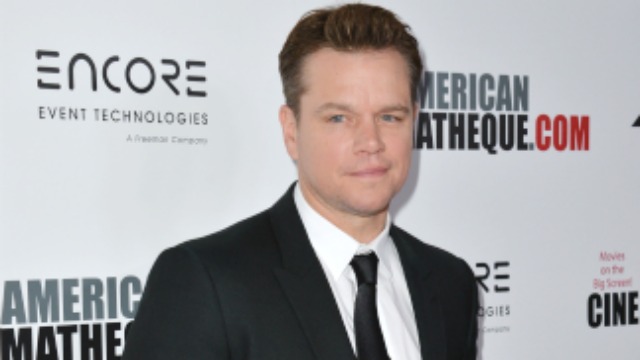 In the aftermath of the New York Times' bombshell report on Hollywood mogul Harvey Weinstein's lengthy history of sexual wrongdoing and quietly settling sexual harassment lawsuits, former NYT reporter and current TheWrap CEO Sharon Waxman published a piece claiming the Times' killed a similar piece on Weinstein she was working on in 2004.
In her post, Waxman claimed the following:
After intense pressure from Weinstein, which included having Matt Damon and Russell Crowe call me directly to vouch for Lombardo and unknown discussions well above my head at the Times, the story was gutted.
Well, in an interview with Deadline, Damon denied that he was "conscripted" by Weinstein to help gut the article about the mogul's sexual wrongdoings back then.
According to Damon, he only had a one-minute phone call with Waxman about an article her former editor came out to deny that eventually written about Fabrizio Lombardo, as he was told by Weinstein that the Times was doing a hit piece on Lombardo.
My recollection was that it was about a one minute phone call. Harvey had called me and said, they're writing a story about Fabrizio, who I knew from The Talented Mr. Ripley. He has organized our premiere in Italy and so I knew him in a professional capacity and I'd had dinner at his house. Harvey said, Sharon Waxman is writing a story about Fabrizio and it's really negative. Can you just call and tell her what your experience with Fabrizio was. So I did, and that's what I said to her. It didn't even make the piece that she wrote. As I recall, her piece just said that Russell and I had called and relayed our experience with Fabrizio. That was the extent of it and so I was very surprised to see it come back. I was never conscripted to do anything. We vouch for each other, all the time, and it didn't even make her article. Whether it didn't jibe with her storyline…it was an incomplete rendering of someone that I was giving but I had perfectly professional experiences with Fabrizio and I didn't mind telling her that.

I'm sure I mentioned to her that I didn't know anything about the rest of her piece, because I didn't. And I still don't know anything about that and Fabrizio. My experience with him was all above board and that's what I told her.
After the Deadline interview went up, Waxman weighed in on Twitter and said she endorsed Damon's, stating that the actor wouldn't have been made aware of the investigative part of what the piece she was working on:
I endorse Matt Damon's statement. He called me briefly,wasn't informed – nor shld he have been – abt investigative aspect of piece. @thewrap https://t.co/kTbOdYY7C8

— Sharon Waxman (@sharonwaxman) October 10, 2017
Following Waxman accusing the Times of spiking the article under pressure, her former editor denied that was the case and said if Waxman had the goods back then why didn't she pursue the story for the outlet she now runs. And the Times' current executive editor said it was "unimaginable" that the paper would kill the story.
Today brought another blockbuster about the Weinstein scandal as the New Yorker published a piece detailing the movie producer's encounters with a number of women, alleging that he had raped at least three women. It also included a 2015 tape obtained from the New York police revealing Weinstein admitting to groping a young woman.
[image via Shutterstock]
—
Follow Justin Baragona on Twitter: @justinbaragona
Have a tip we should know? tips@mediaite.com