NYT Exec Editor: 'Unimaginable to Me' Paper Killed a Story Because of Pressure from Weinstein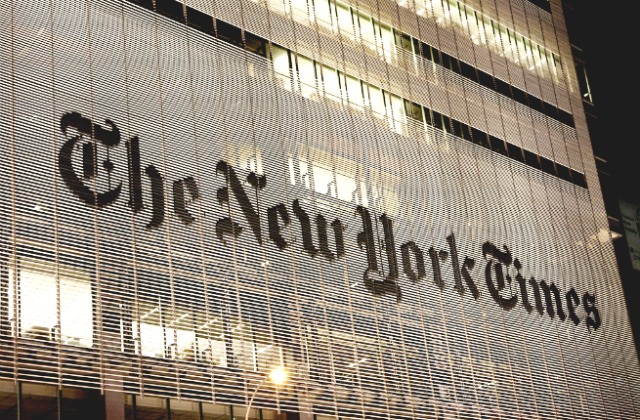 New York Times executive editor Dean Baquet has now offered a response to the claim that back in 2004, the paper killed a story on Harvey Weinstein.
Former Times reporter Sharon Waxman, founder and CEO of The Wrap, wrote that the report was axed after "intense pressure from Weinstein, which included having Matt Damon and Russell Crowe call me directly to vouch for [Fabrizio] Lombardo and unknown discussions well above my head at the Times."
Jonathan Landman, a former Times editor, denied this account and asked, "Sharon has now had more than a decade to pursue this story unencumbered by me or any New York Times editor. Why, if she had the goods on Weinstein in 2004, has she been unable or unwilling to publish something in the Wrap, where she was in charge? Could it be because she didn't actually have the goods then, now or in between?"
Waxman posted this in response to these questions:
WaxWord update: Several of you have asked why I did not publish what the Times would not on TheWrap. Here's why: https://t.co/cPfP4nPgy8 pic.twitter.com/zHXj3FoHb9

— Sharon Waxman (@sharonwaxman) October 9, 2017
And now current New York Times executive editor Dean Baquet has weighed in with this statement to the Times:
I wasn't here in 2004. But it is unimaginable to me that The Times killed a story because of pressure from Harvey Weinstein, who was and is an advertiser. After all, The Times is an institution that has published investigative reporting that caused our Chinese-language website to be blocked in China.

The top two editors at the time, Bill Keller and Jill Abramson, say they have no recollection of being pressured over Ms. Waxman's story. And her direct editor, Jonathan Landman, suggested she didn't have it nailed. The story we published last week took months of work by two experienced investigative reporters. It included the on-the-record accounts of numerous women who were harassed by Mr. Weinstein. It also included the fact that Mr. Weinstein paid settlements to keep women from talking. I'm sure Ms. Waxman believes she had a story. But if you read her own description, she did not have anything near what was revealed in our story. Mainly, she had an off-the-record account from one woman.
After Baquet's response made the rounds on Twitter, Waxman responded again:
I guess that makes @deanbaquet feel better but it's a deft sidestep. the story was abt a procurer of women on Disney payroll. i had it. https://t.co/rg2VhirzA1

— Sharon Waxman (@sharonwaxman) October 9, 2017
I didn't mean to start World War III w @nytimes. I revere the paper, but felt compelled to call out sanctimony. Facts are facts. @thewrap

— Sharon Waxman (@sharonwaxman) October 9, 2017
[image via Osugi / Shutterstock.com]
— —
Follow Josh Feldman on Twitter: @feldmaniac
Have a tip we should know? [email protected]
Josh Feldman - Senior Editor