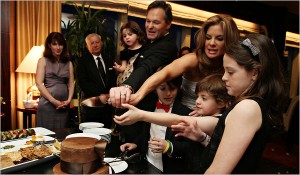 Wedding Announcements! Probably not the first thing most people read in the New York Times. But one particular wedding announcement in the Times is turning a lot of heads today — and catching a lot of snark on Twitter. And here's why: the couple in question were both married with children already when they met, and both eventually left their spouses to be with each other. And now, their entire how-we-met story is on display in a very public Times wedding announcement.
Carol Anne Riddell and John Partilla met in 2006 in a pre-kindergarten classroom. They both had children attending the same Upper West Side school. They also both had spouses.

Part "Brady Bunch" and part "The Scarlet Letter," their story has played out as fodder for neighborhood gossip. But from their perspective, the drama was as unlikely as it was unstoppable.

Ms. Riddell was a reporter and anchor on WNBC television in New York and a mother of two. A glamorous, petite woman with a strong handshake and stronger opinions, she is not the type to be easily dazzled, yet she was struck by Mr. Partilla's exuberance.

"He bounds into a room," said Ms. Riddell, who was 40 when they met. "He doesn't walk in, he explodes in."

Mr. Partilla, then a 42-year-old triathlete and a president of media sales at Time Warner, recognized a kindred dynamo. "She's such a force," he said. "She rocks back and forth on her feet as if she can't contain her energy as she's talking to you."

The connection was immediate, but platonic. In fact, as they became friends so did their spouses. There were dinners, Christmas parties and even family vacations together.
And later on:
They did jump. Both officially separated from their spouses by late 2008, though they waited until July 2009 before moving in together.

"I didn't believe in the word soul mate before, but now I do," said Mr. Partilla, who is 46 and in January is to become a chief operating officer of Dentsu, a Japanese advertising agency.

They finalized their divorces this year. "I will always feel terribly about the pain I caused my ex-husband," said Ms. Riddell, 44 and working freelance. "It was not what I ever would have wished on him." Or on her children.

"My kids are going to look at me and know that I am flawed and not perfect, but also deeply in love," she said. "We're going to have a big, noisy, rich life, with more love and more people in it."
The response has been furious, with many people questioning why the New York Times would publish such an unusual and scandalous wedding announcement. The Village Voice asks: "Why would you sign up for this? Why would you apply to air your family business? WHY ARE YOU SO DAMN PROUD OF YOURSELVES?" Adrian Chen at Gawker rounded up some Twitter reactions, including radio host John Moe who pronounces it "the saddest story in the New York Times today."
One has to pity their five children, who will some day be able to read about all of this online as well.
Have a tip we should know? tips@mediaite.com