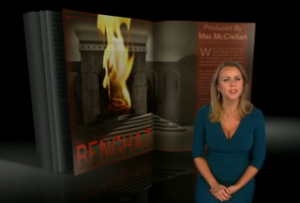 60 Minutes did a new, in-depth report on the attack at the American consulate in Benghazi last year, and it helped to revitalize the national debate over the attack. CBS's report featured an exclusive with a man who recounted what he witnessed, but Media Matters founder David Brock is calling on 60 Minutes to retract the report for a big error.
The key criticism here surrounds the man identified in the report as Morgan Jones (though his real name was confirmed as Dylan Davies afterwards). He told 60 Minutes he was witness to the attack, and described what he saw around him, but a Washington Post report on Thursday says that does not match his earlier testimony on the matter, just three days after the attack on the compound.
In Davies's 21 / 2-page incident report to Blue Mountain, the Britain-based contractor hired by the State Department to handle perimeter security at the compound, he wrote that he spent most of that night at his Benghazi beach-side villa. Although he attempted to get to the compound, he wrote in the report, "we could not get anywhere near . . . as roadblocks had been set up."

He learned of Stevens's death, Davies wrote, when a Libyan colleague who had been at the hospital came to the villa to show him a cellphone picture of the ambassador's blackened corpse. Davies wrote that he visited the still-smoking compound the next day to view and photograph the destruction.
Brock's letter reads "The 60 Minutes story should be immediately retracted and an independent investigative committee needs to probe all aspects of how the story was reported." He refers to the 60 Minutes report as a "new low" in Benghazi reporting.
Media Matters has been particularly critical of the report since it aired, with piece after piece going after CBS for airing it and the conservative media for pouncing on it.
[h/t POLITICO]
Have a tip we should know? [email protected]
Josh Feldman - Senior Editor