Mediaite Interviews Derek And John Tabacco: The Faces Of The Anti-Occupy Wall Street Protests
Mediaite Interviews Derek And John Tabacco: The Faces Of The Anti-OWS Protests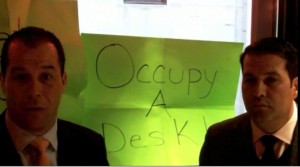 For the two months that Occupy Wall Street has been in existence, there hasn't been any real opposition to the movement. Sure, the Tea Party has been planted on the opposite side of the spectrum, and there are plenty of people wishing the protesters would just go away on message boards and in cyberspace. But it's taken the work of Derek and John Tabacco — two area small business owners — to actually manifest the opposition physically.
They call themselves the Wall Street Freedom Fighters and made their presence known, along with a small group of fellow anti-OWSers, at the protests on Thursday. The Tabaccos held neon green signs that read "Occupy A Desk" and "Get A Job," catching the attention of both the PIX 11 and Fox 5 news crews.
Mediaite sat down with Derek and John Thursday afternoon, and the brothers explained why they were doing this, how they actually wouldn't mind helping the OWS crowd with their organization, and what the experience was like being the first real anti-OWS protesters. To be clear, the duo isn't against the movement — a point they made several times. They instead are against the protest, which they say has been a burden and eyesore on their neighborhood, as well as on small businesses in lower Manhattan. They hinted at some really creative, smart ideas that they have planned over the next couple weeks to rally support against the crowds. And they say the best way to follow them is on Twitter (@wallstfighters), as their project is barely a day old.
If the anti-OWS crowd has been looking for leaders, or at least faces, it's clear that after watching this video, the Tabaccos can ably fill the need:
Have a tip we should know? tips@mediaite.com