Mediaite Morning Reading List: Violence in South Sudan, Shenanigans on Wall Street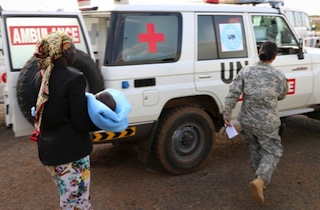 Every a.m., Mediaite publishes a primer of what the interweb machine is writing, talking, tweeting, and blogging about, so that you may fool friends and family into thinking you are a trove of information and insight. Today: escalating violence in South Sudan, Wall Street is back at the antics that caused the 2008 economic collapse, not renewing unemployment benefits is very unpopular in swing districts, and more.

"Rebels Seize Key Town in South Sudan" (Marie-Louise Gumuchian and Antonia Mortensen, CNN)
Violence is growing in the newly-established country of South Sudan, as rebels captured the town of Bentiu, through which oil pipelines, crucial to South Sudan's nascent economy, flow:

With hundreds already killed, the government is readying an unknown number of troops to take on what it estimates to be about 1,500 rebel troops, while tens of thousands flee to U.N. bases for safety.
"Iran's Rouhani Eyes Rebuilding Relations With United States" (Reuters)
Iranian President Hassan Rouhani published an op-ed in Germany's Sueddeutsche Zeitung newspaper on Monday calling for better relations with the United States, another step in the cryptic pas de deux between the United States and the new, more moderate Iranian leader.
The U.S. has had high hopes since Rouhani was elected last summer to replace the extreme Mahmoud Ahmadinejad, and is especially dependent upon his cooperation following last month's negotiations halting Iran's uranium enrichment. However, Rouhani still has a hardline government to satisfy, and the difficulty of threading this diplomatic needle was underscored when he snubbed President Barack Obama in person during the U.N. General Assembly in September, but did engage Obama on the phone, the first exchange between leaders of the two countries since the U.S. severed ties in 1979.
"Wall Street Is My Landlord" (Prashant Gopal, Bloomberg)
Those who don't learn from history are doomed to sublet it. Blackstone, a private equity firm, went about purchasing homes foreclosed in the wake of the cratering housing market in 2007-8, rented them back to the people who can no longer afford to buy homes thanks (in part) to the financial collapse, and has now turned those rentals into derivatives—essentially recreating the boutique financial commodities that caused the financial collapse in the first place:
In October, Blackstone introduced a new kind of bond that's a rental-market twist on the mortgage-backed securities that made so much money for Wall Street before blowing up. Instead of pooling mortgage payments and selling slices of that revenue stream to investors, Blackstone is pooling the monthly rental checks from tenants in 3,207 of its houses and paying bondholders a portion of that stream — after taking out expenses. Moody's rated the biggest portion of the bond AAA, and demand was so great that Blackstone was able to borrow $479 million at a combined interest rate of about 1.9 percent, less than half of the typical 30-year mortgage rate…
These guys, man…
"Cutting Unemployment Benefits Bad Move for House Republicans" (Tom Jensen, Public Policy Polling)
PPP, a left-ish leaning polling firm, finds not renewing the long-term unemployment benefits set to expire at the end of the year a bad move for a variety of vulnerable House Republicans, including Speaker John Boehner, running in swing districts. The move is unpopular across all party lines and doesn't poll well at all with independents, with pluralities of every breakdown telling pollsters that letting the benefits expire would make them less likely to vote for the incumbent. "This is a rare issue in this polarized political climate where we find agreement across party lines," PPP's Tom Jensen writes. These guys are in trouble already- voting to cut off benefits for unemployed people struggling to find work would make their existing problems worse."
Long Read of the Day: "How America Abandoned its 'Undeserving' Poor" (Michael B. Katz, Salon)
Excerpted from his forthcoming book The Undeserving Poor: America's Enduring Confrontation With Poverty, Katz essentially answered Greta van Susteren's question yesterday on This Week With George Stephanopoulos: "Why don't we just win the war on poverty?" she asked, as Reagan won the Cold War. Katz has something to say about both parts of van Susteren's query:
For the most part, the War on Poverty and Great Society rested on an understanding of poverty as a problem of persons, or, in the case of community action, of power, but less often of place. Opportunity-based programs addressed the deficiencies of individuals, not the pathologies of the places in which they lived. This hobbled their capacity from the outset. The conservatives who seized on the persistence of poverty to underscore and exaggerate the limits of the poverty war and Great Society retained this individual-centered understanding of poverty as they developed a critique of past efforts and a program for the future, neither of which was adequate to the task at hand.

The coincidence of America's urban slide into deep urban racial segregation, concentrated poverty, deindustrialization, physical decay, and near-bankruptcy coincided with the manifest failures of public policy, notably in urban renewal, and in the efforts of government to wage war on poverty. No matter that the story as popularly told was riddled with distortions and omissions. This narrative of catastrophic decline and public incompetence produced the trope of the "urban crisis," which, in turn, handed conservatives a gift: a ready-made tale—a living example—to use as evidence for the bundle of ideas they had been nurturing for decades and which emerged triumphant by the late 1970s.
Read the whole etc.
"D.C. Businesses Starting to Accept Bitcoin" (Mohana Ravindranath, Washington Post)
You may now use Bitcoin to buy Peruvian street cart food in D.C. Bonus:
The Lanzones decided to accept bitcoins because their friends Tyler and Cameron Winklevoss persuaded them to do so.
No word on how the Winklevosses feel about dogecoin.
[Image via UNMISS/Associated Press]
——
>> Follow Evan McMurry (@evanmcmurry) on Twitter
Have a tip we should know? tips@mediaite.com