Mediaite's Sources On WeinerGate 'Betty And Veronica' Turn Out Not To Be Who They Claimed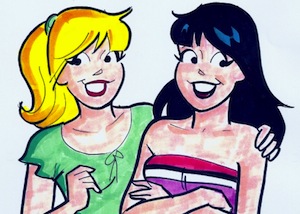 One of the strangest parts of the whole sordid affair surrounding the downfall of Rep. Anthony Weiner has been the differing accounts of this story, and how that engendered speculation and misreporting. Initially, the way the story was reported predictably fell along partisan lines, with many on the left immediately believing Weiner's account of being hacked. Mediate countered speculation by highlighting alternate fact patterns and all of our reporting we stand by. It turns out, however, that the sources that we reported to be underage participants in the Weiner saga are not at all who they represented themselves as. The material facts of the entire story, though, remain unchanged.
While the final headline of the Weinergate story should be "He Resigned" there is much more to how this story came to life via amateur but tireless researchers born from the politically-charged landscapes of Twitter and the blogosphere. And Mediaite's Tommy Christopher did the yeoman's work of tireless reporting to get to the bottom of the story, motivated by telling the absolute truth, regardless if it exonerated Rep. Weiner's role in the scandal, or Andrew Breitbart, who broke the story, only to be rewarded with countless attacks and unfair assertions that he was behind some sort of grand conspiracy. Turns out that there now appears to be some sort of conspiracy at play, but not the one we (and many others) had originally thought.
First, some much needed background: Two weeks ago, we ran a story that contained statements from two 16 year-old girls, who we dubbed "Betty" and Veronica" to protect their identities. The story also included comments and a statement from "Betty's" mother. Further, Christopher took more than reasonable steps to confirm their true identities, including asking for, and receiving, photo identification of all three sources (a driver's license for the mother, and student IDs for the girls).
Shortly after the story's publication, however, new concerns arose. Working with other reporters and sources, we have now determined that "Betty," her mother, and "Veronica" created false identities, and are not at all who they claimed to be.
>>>>NEXT: What We Know, What We Don't Know, And Why We Ran The Story<<<<
Have a tip we should know? tips@mediaite.com
Colby Hall - Founding Editor