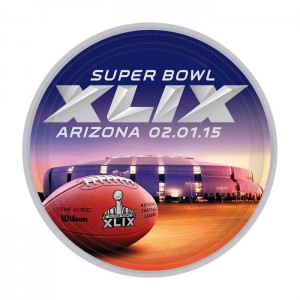 And on Sunday, they finally played the damn game.
Lost in DeflateGate and muted Marshawn is one of the most compelling matchups we've seen in a Super Bowl in at least a decade: The best team in the NFL this century (sixth appearance since 2002) vs. a defending champion actually making it back to the game with a chance to repeat (last team to do it: 2004-'05 Patriots); The league's best offense (NE) vs. its stingiest defense (SEA). Last year's bad guys (SEA) vs. this year's bad guys (NE). Those storylines alone would have carried the media narrative and then some.
But scandal always trumps substance, and once Deflategate was the #1 trending topic globally last week, everything mentioned above landed into the afterthought category. And once you thought you mercifully heard the last bad joke about deflated balls a giggling network anchor or talking head near you, up stepped a Seahawks running back to the microphone with the most famous eight words in the history of 49 Media Days at the Super Bowl:
"I'm just here so I don't get fined."
No athlete has done more with saying less than Marshawn Lynch. His transgressions of not speaking to the press–which has cost him $100,000 over the past two seasons–seem comical in comparison to the likes of fellow running backs Ray Rice and Adrian Peterson. Roger Goodell sounds grouchier than John McCain on the topic, and the fans certainly love the act, with an ESPN poll finding 87 percent didn't object to Lynch's behavior. "I'm just here so I don't get fined" will be reworked into some kind of corporate pitch for Lynch (who has deals with Skittles, Monster headphones and Vita Coco), especially if we wins the MVP tonight…which would quite possibly be the greatest thing ever when Lynch sings to the camera, "I'm just going to Disney World so I don't get fined!"
But now, as another snowstorm blankets much of the Iron Belt and Northeast tonight, we settle in the watch what should be an extremely tight, mistake-free, well-coached tight affair. It will also be the most-watched in history when the numbers are added up tomorrow morning (controversy + close game + bad weather = more eyeballs). As for the game within the game, here are your Top 5 prop bet recommendations as is tradition in this space Super Bowl Sunday (and yes, these wagers really are available in Vegas):
1) Number of times Gisele Bundchen will be shown on TV (over/under 1.5). This happens at least four times, particularly in a close game and/or Pats comeback or crushing loss (and nobody looks more attractive chugging red wine than Mrs. Brady).
2) Who will be shown more on TV? Pats owner Robert Kraft (1/2 odds) or Seahawks owner Paul Allen (3/2 odds). Again…controversy sells. Kraft gets more airtime here easily.
3) Will Bill Belichick smile during the game on camera? Yes (3/2) or no (1/2). Absolutely not. Go no or go home.
4) Who will President Obama pick to win the game? New England (5/7) or Seattle (even). Neither. POTUS has shied away from picking a winner in the past and will do so again here.
5) What will be higher? Russell Wilson passing yards or the U.S. National Average Gas Price (in cents)? The current price is $2.05, meaning Wilson has to throw for more than 205 yards. Go under here while Wilson gets accustomed to the drawbacks of Revis Island.
And the actual game?
The final prediction here is 24-20, Pats.
Enjoy the best unofficial holiday out there…
— —
>>Follow Joe Concha on Twitter @JoeConchaTV
Have a tip we should know? tips@mediaite.com