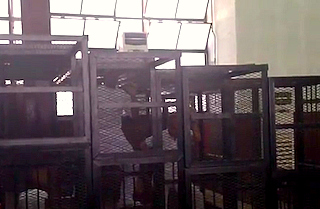 Australian journalist Peter Greste was released by Egyptian authorities after 400 days in captivity and deported from the country on Sunday, according to state news services.
Greste, one of four Al Jazeera employees arrested in December of 2013 and convicted of spreading false news. The journalists were sentenced last July to seven years in prison, after a "sham" trial in which they were kept in cages.
Per the BBC, "Egyptian law requires those deported under these circumstances to either finish their sentence in their home country or be put on trial again there, and it is unclear whether the Australian authorities have agreed to that."
There was no word on the fate of Mohamed Fadel Fahmy and Baher Mohamed*, arrested along with Greste. A fourth Al Jazeera employee was released last Summer after a hunger strike imperiled his health.
"We're pleased for Peter and his family that they are to be reunited," an Al Jazeera spokesperson said in a statement Sunday morning. "It has been an incredible and unjustifiable ordeal for them, and they have coped with incredible dignity. Peter's integrity is not just intact, but has been further enhanced by the fortitude and sacrifice he has shown for his profession of informing the public. We will not rest until Baher and Mohamed also regain their freedom. The Egyptian authorities have it in their power to finish this properly today, and that is exactly what they must do."
Egypt's relationship with Al Jazeera and the press in general deteriorated after the ouster of President Mohamed Morsi in the summer of 2013 installed a military-led government, which cracked down on the Muslim Brotherhood and what it perceived to be the Brotherhood's allies.
Al Jazeera has protested the men's arrest for the last thirteen months, including blacking out its website to call for their release.
* UPDATE 11:45 a.m.: Reports now indicate Fahmy will be released "within days."
[h/t BBC]
[Image via screengrab]
——
>> Follow Evan McMurry (@evanmcmurry) on Twitter
Have a tip we should know? tips@mediaite.com