Meet Francesco Braga, The Canadian Professor Mistakenly Appointed As Italy's Junior Agriculture Minister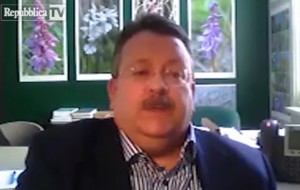 The story, at first, seems a little like a joke: Francesco Braga, a business professor at Canada's University of Guelph, was sent an email from the Italian government early Tuesday morning, congratulating him on his nomination as the country's junior agriculture minister. After a day of trying to reach authorities, negotiating a leave of absence with the school, and looking into flights to Italy, Professor Braga was told that the whole thing was a big mistake; the government meant to nominate Franco Braga, a professor specializing in seismology and landslides at Rome's Sapienza University, to the post instead.
But Canada's Professor Braga, who was born in a town south of Milan and has returned to Italy for the past 20 years to teach a course in risk management, actually has a long list of qualifications for the post. "I have been working for the last 30 years with Italian agribusinesses in different capacities," he told Mediaite in an interview on Thursday. "I'm a professional agrologist by training in Italy. I belong to the order of agrologists in Milan."
To hear Professor Braga explain how this mix-up happened is at once a little funny and a somewhat heartbreaking. He initially saw his name listed as the junior minister for agriculture after going online as a joke to see if his high school friend, a lawyer, had been named as an undersecretary. His friend wasn't listed, but to his surprise, he was.
"I told my wife, 'Look at that. It must be somebody else,'" he recalls. "Because I hadn't heard anything. So we went to sleep." But, because it's the end of the school semester at Guelph, Braga woke up at 3 a.m. to grade a mountain of exams. At 4:26, just under 90 minutes later, he received an email from Italy's minister of agriculture, saying they'd been trying to get in touch with him. "I thought my friends were playing a prank," Braga says. So he went online and read the Italian papers. "Sure enough, there it was… my name." He saw some quotes from the minister, who said he didn't know Professor Braga, but was familiar with his professional pedigree, ticking off some of the Canadian professor's accomplishments. Braga, convinced this wasn't a prank, wrote back with his contact information.
In the meantime, he was receiving emails and phone calls congratulating him, from colleagues at the university, agricultural industry leaders in Italy, and friends. That's when things started to get a little complicated. Braga received a call from the minister later that morning. "'Until half an hour ago,'" the minister told Braga, "'we were 100% certain it was you, but now there may be some development. We'll let you know.'"
Braga shook it off, went to campus, taught class, and then got a call from his wife, saying that Quirinale Palace had phoned and wanted him to call back.
"So I called them and I speak with this guy and he says, 'Are you Professor Braga?' I said, 'Yes.' 'Are you the undersecretary then?' What are you talking about?! 'I'm calling the office of the Prime Minister who, constitutionally, is the guy who signs the appointment. You're telling me you guys don't know this?' He said, 'Well, there's a little bit of confusion.'" He instructed Braga to call back in 10 minutes.
"So I call back, I speak to someone else, the guy puts me on hold for half an hour, and then has a set of questions:
'Are you Professor Braga?'
Yes.
'Do you work with derivatives?'
Yes.
'Do you work with agribusiness?
Yes.
…
'No, they need the other guy.'"
Braga was ultimately informed that they had meant to appoint Franco Braga. As he remembers it, he was told, Regrettably, we have been informed by the Prime Minister that there was, in fact, a misunderstanding. But we appreciate it and come and visit us.
Francesco Braga really doesn't have any hard feelings. He laughs off most of the drama and seems to be at least enjoying the wild ride he's been on over the last few days. "When 'Francesco Braga' came out, everyone thought of me. So I feel very proud, I'm kind of empty-handed," he laughs, "but my ego is boosted by this attention."
And, thankfully, not much harm was done. Braga says he didn't start packing, hadn't booked a ticket to Italy yet, and the University quickly scuttled their agreement for a leave of absence. But he was, however briefly, excited to serve one of the two countries he calls home. "It doesn't matter the politics. If your country calls, you go. Sincerely, without hesitation," he says. "I'm not a politician. I'm a university professor, I'm an industry consultant. I'm a practical guy, a normal guy who has studied and worked hard. And so when they call you from your government you don't ask too many questions. You just say, sure."
Have a tip we should know? tips@mediaite.com