Ron Paul To Laura Ingraham: I Wouldn't Put Newt Gingrich In The 'Conservative' Category
Ron Paul: I Wouldn't Put Newt Gingrich In The 'Conservative' Category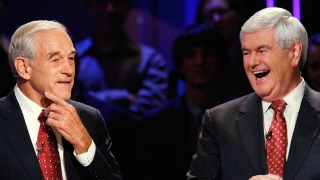 On her show this afternoon, radio host Laura Ingraham asked GOP presidential hopeful Ron Paul an intriguing question: Is Newt Gingrich a conservative?
Paul did not beat around the bush:
I wouldn't put him in that category. You know, he was known to be from the left-wing of the party, especially early in his years, you know he would come up with conservative viewpoints and all, but that doesn't make him a conservative. No, I don't put him in that category.
RELATED: Ron Paul Campaign Releases Brutal Newt Gingrich Attack Ad
When asked about the recent surge in popularity Gingrich has experienced, Paul put it all in perspective, opining it has more to do with people thinking about who will be the next to "beat Romney" and the way polling works (and, thus, the subsequent media attention candidates receive after a surge in the polls) than on any real "facts."
"He's not Herman Cain, though, right?" said Ingraham. "I mean he's quite a bit different from Herman Cain or even Michele Bachmann. I mean, he's been through the fire, has he not?"
Paul agreed, adding that Gingrich has actually benefited from people already knowing so much about his past. However Paul still believes that "the policy flip-flopping deserves to be known by the people and where he's been on these issues.
When it comes to his chances for success in the Iowa Caucuses, Paul says he's "not good" at switching up the campaigning strategy he's basically gone with for the past thirty years, touting, as he phrased it, individual liberty and constitutional government.
Have a listen, courtesy of The Laura Ingraham Show:
Have a tip we should know? tips@mediaite.com