Meet Kurt Heins, The 17 Year Old High Schooler Running For County Clerk As A Prank (Or Not) [UPDATE]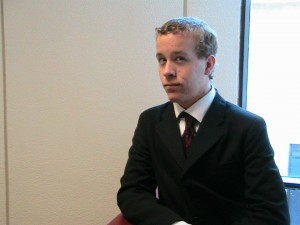 UPDATE: Heins confirms to Mediaite that it was, indeed a prank. "I am not running for Clerk," he said. But there's a twist! (See end of the story for the spoiler)
By all accounts, Kurt K. Heins, 17, seems like a normal high schooler. But a media project that began as a prank has become an all-out candidacy.
Or so some people think.
After several news reports and television spots, nobody's absolutely certain if Heins is really running for the Waukesha County Clerk as a Tea Party candidate, heaping even more brilliance onto this probably-prank. But here's what we know:
Heins and a friend, Reuben Glaser, shot a video that Glaser had sold to participants as a political satire. It was a quick production that announced Heins as a candidate for Clerk, an election which will be held in 2012. The duo of Glaser and Heins picked up tongue-in-cheek campaign endorsements from the school principal and even Joe Greco, the former village president of Menomonee Falls, who subs at Heins' high school. In the video, Heins signs legitimate election paperwork that Glaser had filled out for him. And that was where the joke was supposed to end. Heins, however, apparently had different plans. He revealed after the video that he was running a legitimate campaign to unseat incumbent Kathy Nickolaus, who Heins refers to on his campaign Facebook page as his "future predecessor."
One sad part to the story — outside of the school being up in arms about possibly being fooled into thinking a campaign video was a satirical school project — is that Glaser and Heins have parted ways. Glaser told the local ABC affiliate, WISN, that, "I think I might have to back off at this point and see what happens. I've done my part." The Facebook page did not seem too broken up, however, announcing the departure on Monday:
The Kurt Heins for Waukesha County Clerk campaign is saddened to announce its decision to release Reuben Glaser as Chief Strategist and Campaign Manager. He was abruptly fired this evening for "disobeying" Mr. Heins in what he called "insubordination." We wish him luck in all his endeavors.
If this is a legitimate campaign, where Heins had actually duped school officials into endorsing him in a cloudy video that is currently locked on YouTube, it's a really funny story. But if he's still pulling a fast one on everyone, to the point where ABC affiliates are covering the story, it's a genius form of media manipulation and is deserving of more attention. We're leaning towards "still a prank" territory here, mostly because Heins is doing things like accusing his opponent of being, "a woman with Wall Street in her pocket and a proclivity for spending sprees in ethnic restaurants." And his biggest media booster is Danny Crowley, an AOL Patch writer… who is a sophomore at Heins' high school.
To her credit, Nicklaus told WISN that if Heins is really running, she will take his candidacy seriously.
THE TWIST: Glaser was the man behind the prank all along. "I was the victim of one of the most brilliantly thought out pranks that anyone will ever know," Heins told Mediaite, noting that Glaser had authored all the press releases.
Enjoy the report on the merry prankster (we think) below, courtesy of WISN:
Have a tip we should know? tips@mediaite.com