Meet Tudor Petrut, The Algebra Teacher Who Plays 'Peggy' In The Discover Card Commercials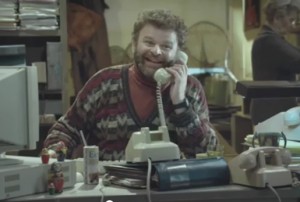 If you've watched television at any point in the last year, you've likely come across "Peggy," a hirsute, vaguely Eastern European man in a holiday sweater who runs the fictional USA Prime Credit help center in the ubiquitous Discover card commercials.
But you probably didn't know that the man behind Peggy is Tudor Petrut, a high school algebra teacher who landed the role on his first American acting audition. Petrut, a native of Romania (his mother is from a township right in the middle of Transylvania, "not very far from the alleged Dracula's castle."), had won his country's equivalent of the Academy Award before moving to the United States 20 years ago to marry an American and focus on writing scripts.
"Hollywood has no rules," Petrut, who speaks with a Romanian accent, explains, laughing. "I was fortunate enough to be part of one of the most successful and famous Romanian movies [The Graduate] twenty-something years ago, during the Communist regime. It was a romantic comedy and it was very rare that they ventured to make a movie that was not propaganda, or historical. The five of us, the main characters, we all received the yearly Romanian film award. At that point, Hollywood was so far away. So far, far away… and to be honest with you, it still is."
Petrut, who lives outside of Los Angeles, in Orange County, eventually decided, after 20 years out of the acting business, to audition for a commercial — his first American audition for any role — that was looking for a non-descript Eastern European. "I think they saw all the Russian actors in L.A., but they wanted something that was much more generic," he explains. "I was lucky enough that I can do an accent that is not exactly Russian, that is not exactly Romanian, that is not exactly Polish, or whatever. So I went to the audition and it was a match."
What transpired was a joint effort between Discover's marketing team, the Martin Agency, and Harvest Films. The character would be named "Peggy," and he would be spectacularly apt at being purposefully inept. After the first couple spots turned out to be hits, the companies called Petrut back to do more. And then more.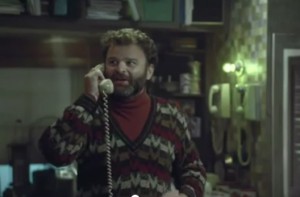 "I do a couple at a time," he says. "They have to call a couple weeks in advance to make sure I grow out my beard. Remember, in my civil life, I'm a high school algebra teacher, so I can't be Peggy at work." His students, though, try their best. They give him rundowns of when his commercial pops up on TV. And some will answer questions by doing impressions of USA Prime Credit's manager. "They try to be funny," he says, adding that he will sometimes do a quick 'Peggy' for the kids. "I have very few absences."
People outside of the classroom seem to be just as excited to see Peggy in the wild, recognizing Petrut at sporting events and restaurants. "I am a picture favorite," he says, adding that it can sometimes get a little weird. "Imagine this," Petrut explains. "You go to a sports bar to watch the game, then, out of nowhere, the commercial plays there on the screen. On several screens. On all the screens. Now imagine if you're sitting down at a table, trying to eat dinner, and everybody's looking at you. 'Okayyy yep, it is me. Hello. I'm eating.'"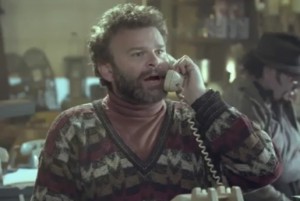 Petrut laughs off the sudden attention, arguing that it's proof that the campaign has touched a nerve with people who like the message and who can relate to not being able to get something done over the phone. "I don't think I'm good looking, I don't think I'm good enough to be an actor — even though I've been a film star back home. Hollywood does this to you, you know?" He does take pride in the work, saying that, "it's really, really hard to do something memorable in 30 seconds." He counts Isaiah Mustafa (the Old Spice Guy) and Jonathan Goldsmith (the Most Interesting Man In The World) among two of his fellow commercial actors who have made great impressions in the small window, as well.
So what's next for the man whose first job in Hollywood was as a language consultant on Bram Stoker's Dracula? He's still enjoying being a teacher, and, although the offers are piling up for more on-camera work, Petrut says that he'd like to get back to what he came to Hollywood 20 years ago to do: write. "I was concentrating on my script writing and different ways to conquer Hollywood — acting was not on my list. This just happened," he says. "It was match made in heaven."
Enjoy some of Petrut's work as "Peggy" below, courtesy of Discover:
Have a tip we should know? tips@mediaite.com