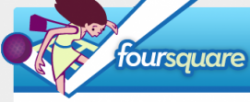 You went to the local pub? Get 5 points – On FourSquare
(By Amit Avner – Translated from Nana10)
You went to the local pub? Get 5 points. You went to meet your friends in the billionth time at the local café?  Congrats! You are now the "mayor"!
Who said that traveling in the city can't be a fun game? This is exactly what the creators of FourSquare want you to find out: The playfulness and fun of traveling in the city, and go to new places. FourSquare, is a new service for mobile devices, which enables you to "Check-in" wherever you are, and update your friends, stay up-to-date where they are, get advices on what food to order, offers and interesting places around — all from your social network? The best thing is? In the next 24 hours, the service will launch in Tel Aviv.
The company was founded by two entrepreneurs: Dennis Crowley and Naveen Selvadurai in March 2009, and already became massively popular around the world (the service is already active in dozens of cities around the world, from New York to Amsterdam), and even got funded by star high-tech investors: Kevin Rose (founder of Digg), Jack Dorsey (founder of Twitter), and super-investors: Ron Conway and Fred Wilson.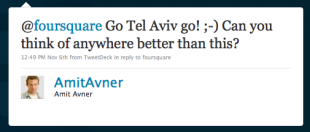 So how does it work? Easily. Either on the company's website (www.foursquare.com) or through the iPhone and Android apps. You sign-up for free, and the app automatically detects your location via your device's GPS, then it asks you where you are (out of a list of possible locations). After you find your location, the service will notify all your friends on your whereabouts – And you will get points for doing so. You visited a couple of places on the same day? You'll get more and more points on each "check-in". You visited one place more than anyone else? You will become the "mayor" of the place, and every user that will check-in in this place, will know that you are the mayor! This competitive element became a global addiction: people bother to go to the same place, day after day, even if they rather go somewhere else – Just to keep their title. Or, win the title out of someone else. You check-in in after 3am on a school night, you'll get "School Night" badge, you check-in with three members of the opposite sex – you'll get the "Player" badge. According to the developers, the service makes every day in the city a game. Super-Mario meets Zelda. The effect is so fundamental that people say they want to live more active and exciting lives!
The application has a few interesting benefits for users, it can recommend on places around your location that your friends like (because they go there often) and you never visited – it can also recommend on stuff to do and eat there. The developer's vision in to help you meet your friends and interesting people you want to meet, around you – that you didn't know they are there. In the future, when you are traveling around the world they hope to be able to tell you: "At this time, you usually drink coffee. There is a recommended coffee place nearby – Do you you want to go there?".  They hope to be able to give you a solution, before you even know there is a problem, and simply, make your life easier.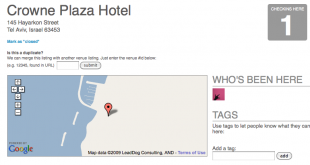 The service obviously has a few down-sides. Currently, it focuses mainly on night-life and restaurants. But they hope to "grow-out-of-it" during time, and the phenomenal user growth certainly helps them to become more general. Like every good service, they have their competition especially from Google Latitude, Brightkite and Loopt. But their main advantage is the "fun" effect, you get points and can become more competitive which in turns makes the service more addictive and popular. FourSquare is also an active service, which can notify you on places around you – without you asking, they try to be ahead of you and let you know what you might want.
For their Tel Aviv launch, I got Dennis Crowley, the CEO and one of the founders, to answer a few questions and hand-out a few tips to the aspiring entrepreneurs:
How many people are working for you nowadays?
We're a six person team.
Why Tel Aviv? (from all the cities in Israel? And why Tel Aviv from all the cities in the world?)
Well, we're going to launch a big round of international cities… but I also have some friends who live / work in Tel Aviv (Boxee!) and want them to be able to use 4sq too!
Where do you get your data from?
we partnered with a company called WCities to help seed each city, but after that the users just take over and add / edit and maintain the database (crowd source).
Do you expect to integrate more cities in Israel in the near future?
Soon, foursquare will just work everywhere :)
As a person, who already sold one company to Google, and has another new company: what do you thing are the biggest challenges in starting a startup?
Getting through the growth stage…  when we're all working 14 hours a day, putting out fires left and right and  stressing all the time it can be tough to keep it all together.  Making sure to assemble a team that can work well together under pressure (yet still grab beers together after work) is also very important.
Do you think that having such elite investors (Jack Dorsey, Kevin Rose, Ron Conway…) like you have is helpful for the company? Or just buzz? If so, can you explain?
We tried to align ourselves with investors that could open doors for us…  all our investors have been super helpful so far!
Do you have a tip for aspiring entrepreneurs?
Don't let anyone tell you your ideas are stupid or the thing you feel most passionate about "won't work" – it's happened to me time and time again and we find that if you push at what you think is interesting hard enough, you're probably right :)
The service will be available soon in Tel Aviv through the company's website, or on the app stores.
Amit Avner is the founder and CEO of Taykey and bWitty and an entrepreneur, developer and software architect. Currently, he is busy running Taykey. You can also check out his Twitter account and his personal website.
Have a tip we should know? tips@mediaite.com