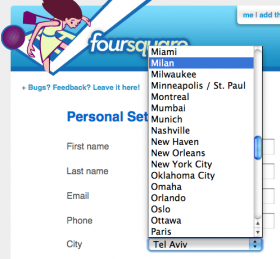 Shalom! The Newest FourSquare City is Tel Aviv! And Mumbai, and Munich, and Rio, and Sydney, and Reykjavik, and Bangkok…
The popular location-based mobile service — darling of the 2009 SXSW scene — went live today in 50 new cities across the globe, bringing their total to 100 cities worldwide.
(I just checked in retroactively in Tel Aviv, so can confirm that it works!)
Per Mashable:
Founder Dennis Crowley tells us that the company is still preparing for a "Foursquare everywhere" launch, but that they really wanted to incorporate the most requested cities as soon as possible. So the cities included in this list are what the company saw people talking about and/or requesting the most on Twitter (Twitter) and through their other feedback channels.
I can confirm that Tel Aviv was a heavily-requested city, because I was one of the people heavily requesting it — from my visit it was clear that the active and uber-wired tech community there would use it heavily, including adding to the location database which is key to getting it up and running and making it a useful service for new adopters. I'm not sure how active the users in Sao Paolo, Lisbon, Zurich or Kuala Lumpur are, but they now have that option.
Mashable was the first to report the news…in Engligh; Hebrew-language Nana 10 reported the Tel Aviv rollout in an exclusive interview with FourSquare co-founder and CEO Dennis Crowley. Taykey founder and a friend of Mediaite Amit Avner published his article about and interview with Crowley in Hebrew, but forwarded the English version below:

How many people are working for you nowadays?
We're a six person team.
Why Tel Aviv? (from all the cities in Israel? And why Tel Aviv from all the cities in the world?)
Well, we're going to launch a big round of international cities… but I also have some friends who live/work in Tel Aviv (Boxee!) and want them to be able to use FourSquare too!

Where do you get your data from?
We partnered with a company called WCities to help seed each city, but after that the users just take over and add/edit and maintain the database (crowd source).

Do you expect to integrate more cities in Israel in the near future?
Soon, FourSquare will just work everywhere :)

As a person, who already sold one company to Google, and has another new company: what do you thing are the biggest challenges in starting a startup?
Getting through the growth stage… when we're all working 14 hours a day, putting out fires left and right and stressing all the time it can be tough to keep it all together. Making sure to assemble a team that can work well together under pressure (yet still grab beers together after work) is also very important.
Do you think that having such elite investors (Jack Dorsey, Kevin Rose, Ron Conway…) like you have is helpful for the company? Or just buzz? If so, can you explain?
We tried to align ourselves with investors that could open doors for us… all our investors have been super helpful so far!

Do you have a tip for aspiring entrepreneurs?
Don't let anyone tell you your ideas are stupid or the thing you feel most passionate about "won't work" – it's happened to me time and time again and we find that if you push at what you think is interesting hard enough, you're probably right.
NB: Amit was kind enought to translate his article for me, which I've reproduced on the next page. Here's a much-less deftly translated snip from Google Translation:
The company, founded by two entrepreneurs, Dennis Krauli Naveen Slbdorl March 2009 and won success in the cities where service musk (approximately 40 cities around the world, from New – York and Amsterdam), and won a magnificent series of investment stars Hi – tech Americans, including Kevin Rose (Digg founder) Jack Dorsey (Twitter founder), investor – Premier Ron Conway and Fred Wilson.
Dennis Krauli! Sounds like a Russian mobster. Here's a better version:
The company was founded by two entrepreneurs: Dennis Crowley and Naveen Selvadurai in March 2009, and already became massively popular around the world (the service is already active in dozens of cities around the world, from New York to Amsterdam), and even got funded by star high-tech investors: Kevin Rose (founder of Digg), Jack Dorsey (founder of Twitter), and super-investors: Ron Conway and Fred Wilson.
Amit's article, "FourSquare-יצאת לפאב? קבל 5 נקודות ב" is translated in full on the next page.

>>>NEXT: FourSquare in Tel Aviv
Have a tip we should know? tips@mediaite.com