Meghan McCain And Geraldo Have Tense Exchange After He Says Her Dad 'Backed Down On His Principles'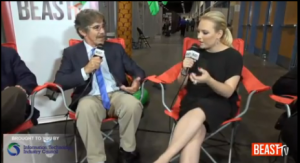 Meghan McCain and Geraldo Rivera's bangs were among the talking heads chatting about policy and politics with The Daily Beast during the Republican convention down in Tampa.
On the topic of immigration and the Latino vote, Rivera said that Meghan's father John McCain had gotten his "butt kicked" when it came to garnering the Latino vote, sharing that, when McCain moved to the right on immigration, he lost faith in the Arizona Senator and ultimately ended up casting a vote for Barack Obama instead. "He backed down on his own principles, said Rivera. "That's why I lost faith in him." It should be noted that the team had spontaneously invited Rivera to join them, and so having him and McCain discussing immigration and her dad hadn't exactly been anticipated.
"Should I leave?" Ms. McCain joked.
Later, when talk turned to Arizona and its Governor, McCain said she had personally supported the DREAM Act and called "elements" of the bill "noble," although she declined from detailing precisely which elements those were, saying only that she hadn't come to discuss immigration.
McCain then turned back to Rivera, asking him if he'd vote for Obama again, and later pressing him to explain why he'd say that her father "backed down" on his principles, making note of the protests outside the McCain family home in Phoenix when SB 1070 was put in place and sharing that her father routinely referred to illegal immigrants "God's children" throughout Arizona.
Rivera pointed to the exact moment McCain had lost his vote: When McCain was running as an incumbent senator against J. D. Hayworth in 2010, he was asked whether he would vote for the immigration reform bill he himself had worked to draft alongside Ted Kennedy. McCain response? No, he would not. "It was like he threw a spear in my heart," said Rivera, tying McCain's response to Romney's own stance on immigration reform.
Rivera then said that, nonetheless, McCain is a magnificent politician who deserves to be on Mt. Rushmore.
"I thought we were here to talk about Mitt Romney," McCain interjected.
"You asked me and I'm just telling you," said Rivera.
Have a lil' look, via The Daily Beast:

h/t Daily Beast
Have a tip we should know? tips@mediaite.com