Meghan McCain Rips Greta Van Susteren Over Inviting Lindsay Lohan, But Boycotting Louis C.K.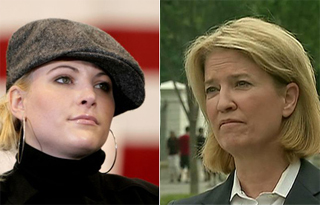 MSNBC contributor Meghan McCain zinged Fox News' Greta Van Susteren over her invite of Lindsay Lohan to the White House Correspondence Dinner. "Let me get this straight," McCain tweeted. "Greta Van Sustern is bringing Lindsay Lohan to the WHC Dinner but has a moral offense to Louie C.K?"

In March, Van Susteren called for a boycott of the Radio/TV Correspondence Dinner over Louis C.K.'s past controversial statements about women.
The headliner of this year's Radio and Television Correspondents Dinner is "comedian" Louis C.K. Comedian? I don't think so. Pig? yes.
He uses filthy language about women…..yes, the C word…and yes, even to describe a woman candidate for Vice President of the United States. It isn't just Governor Palin he denigrates. He denigrates all women and looks to the crowd to laugh.
I refuse to show any support for this guy or for the Radio and Television Correspondents Association Dinner Committee who hired him. I think the organization that hired him is just as bad as he is. It is no secret that he denigrates women.
C.K. eventually pulled out of the event, explaining he didn't want to host anymore:
'I wasn't going to stand there and defend something I din't really feel like doing anyway,' he told TheWrap. 'I wasn't that excited about it, I didn't want to cause them problems, I didn't think it was what they invited when they hired me. And I didn't think about it much. It was like one morning I woke up, I heard there was static. I'm in production, so I have no reason to be in conflict with anybody right now.'"
Have a tip we should know? tips@mediaite.com