Meghan McCain Talks Social Media At SXSW: Mitt Romney Isn't Using Online Platform Well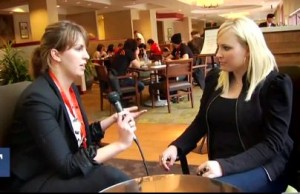 Meghan McCain is one of the many attendees of the SXSW conference in Austin, Texas. Forbes writer Meghan Casserly covered McCain at one of the events, and following the panel, she managed to sit down with McCain for a short Q&A. During the panel discussion, McCain talked about how she views social media like "pretend[ing] the internet is your best girlfriend" and using that as a jumping-off point for sharing information on the web.
RELATED: Meghan McCain Unfollowed Rep. Weiner On Twitter Because Her Mom Was 'Uncomfortable' About It
McCain revealed that during the 2008 presidential campaign, she was heavily censored by her father's staff, and joked, "Thank god I wasn't on Twitter back then or I might be in jail!" She also addressed the "Boobgate" photo she took back in 2009.
"That picture will follow me around forever," she says, "But I apologized and the web was pretty sympathetic about it. Oh, I've been accused of over-sharing and taking it too far," she says, "But you can't just tweet that you're eating a ham sandwich and watching mad men. That stuff is just boring."
She also talked about effective ways that politicians can use social media outlets, especially by being more authentic and engaging with the American people. She brought this up during a conversation on celebrities.
"We're talking about celebrities here," she says, "but these same rules of engagement apply to politicians." An authentic social presence just isn't an option for any public figure, she says. "Take the current [Republican presidential] campaign. Everybody in the race is online doing it… but not everyone's doing it well. Romney's campaign isn't using social media in the best possible way—it can't just be press releases. It's like ugh."
In the video below, McCain talks more about the infamous picture, courtesy of Forbes:
Have a tip we should know? tips@mediaite.com
Josh Feldman - Senior Editor