Megyn Kelly Grills Trump Advisor About Candidate Insulting His Sexual Assault Accusers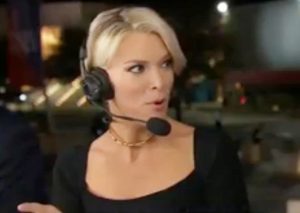 Megyn Kelly is known as a news anchor who will never back down from asking hard questions when it comes to sexual assault. It's been rumored that it was her coming forward with stories of Roger Ailes' improper behavior that got the man ousted from Fox News, so it's clear that her reputation as someone who takes a hard line against harassment and assault is solid. Since Donald Trump has been accused of sexual assault, she's been speaking out fairly candidly and not allowing his surrogates to dodge questions on the matter.
Tonight, she took Trump to task for claiming during the debate that he never insulted the looks of the women accusing him of sexual assault.
She played his claim that he never insulted them, then played the footage of him insulting them. His senior communication advisor, Jason Miller, tried to brush it off by saying the accusers are lying, so just like Jake Tapper did a few days ago, she stopped him and demanded to know what, then, Trump had meant by "look at her."
"No, no, no; stay on that," she said, referring to the insults to the women's looks. "Why did he deny that he disparaged their looks wen accused of harassing them?"
"He was talking about their words," he said.
"Why did he say 'When you looked at her, when you saw her, you knew I didn't do it?'" she demanded.
He doubled down with, "Because they weren't credible!"
"You could tell from her face that she wasn't credible?" she scoffed.
Watch above.
[image: screengrab]
Have a tip we should know? tips@mediaite.com