Megyn Kelly Tells Vanity Fair That Pre-Candidate Trump Treated Her Much Differently (Updated)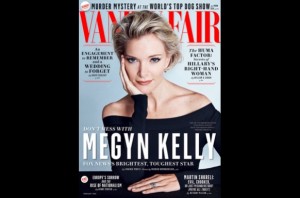 The newest Vanity Fair features Fox News' Megyn Kelly on the cover, and the in-depth feature on the cable news star written by Evgenia Peretz hails Kelly as "Fox News's brightest, toughest star". The VF issue, covers a wide range of revelations about Kelly and her approach to her show The Kelly File, which broadcasts to an audience of 2.7 million viewers.
On the family home front, Peretz highlights the dynamic of Kelly and her husband Doug Brunt — "who is straight out of central casting for the Perfect Guy" — as they balance demanding careers with three young children at home.
But as noted by Peretz for Vanity Fair, Kelly's husband Brunt, himself a bestselling novelist, holds his wife in understandably high regard:
Brunt is hopelessly enamored. In his opinion, "she's like a combination of Walter Cronkite, Barbara Walters, Oprah Winfrey, and then a Grisham character who's a scrappy guy from the other side of the tracks who has a rare gift for the law, in a Grace Kelly package, with a little Larry the Cable Guy sprinkled on top."
By Peretz's own admission, 'Walter Cronkite might be a stretch," but the quote from Brunt paints a pretty interesting picture of the cable news dynamo who was recently named to Mediaite's 25 Most Influential in Political News Media in 2015.
The Vanity Fair piece delves into the working relationship with Fox News Chairman and CEO Roger Ailes as well, noting that the boss has given Kelly invaluable advice about loosening up and not being afraid to make mistakes. The cover story also highlights Kelly's influence and impressions on others in media, declaring the praise that people by Sheryl Sandberg, Chris Matthews, and Joy Behar have all given to Kelly, and the fearlessness with which she took on GOP frontrunner Donald Trump during and after the August Republican debate.
When the conversation shifted to Trump, Kelly admitted one particular tidbit about the pre-candidate real estate mogul that many have found interesting. Kelly told Peretz that before he launched his Presidential ambitions, Trump, "would send me press clippings about me that he would just sign 'Donald Trump.' She continued:
"And he called from time to time to compliment a segment. I didn't know why he was doing that. And then when he announced that he was running for president, it became more clear. But I can't be wooed. I was never going to love him, and I was never going to hate him."
Kelly continued that following the August Republican debate where she pressed Trump about his long history of making disparaging comments about women, she was effectively fact-checked by those skeptical of her assertions. She proudly remarks, "I wrote it. I researched each line item myself."
Kelly is scheduled to also moderate the Fox News debate live from Des Moines, Iowa on January 28th.
You can read the full cover story from the January 31, 2016 edition of Vanity Fair here.
UPDATE — Jan. 7, 1:04 p.m. ET: Donald Trump told The Hill this week that, "the last person in the world I would try to woo is Megyn Kelly." In a followup comment, when Trump was asked whether or not he believes that he and Kelly will get along for the January 28th debate in Des Moines, Trump responded simply, "No. I don't think we will."
[image via Vanity Fair]
—
>> Follow J.D. Durkin on Twitter (@MediaiteJD)
Have a tip we should know? tips@mediaite.com