Melissa Harris-Perry Changes Tune on Possible Move to Fusion: 'Kind of a Fun Place'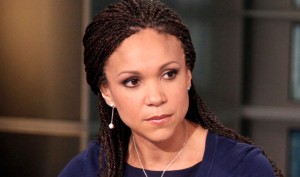 On Friday, Mediaite's Joe Concha wrote a column reporting that former MSNBC host Melissa Harris-Perry had signed a deal with the Fusion Network to get her own show. After Harris-Perry's vigorously denied it in a series of tweets, Concha followed up with sources and clarified that she was in final talks with the network. He also obtained subsequent information that "Perry herself was apparently telling her former staffers that she was preparing for her own show at Fusion and inquiring about their interest in moving over with her."
By way of background, earlier this month,  Harris-Perry's show on MSNBC was suddenly cancelled after she refused to host it citing frustrations with constant interruptions for political coverage. On Friday, Perry took to Twitter to unequivocally and adamantly claim that she was absolutely NOT going to host a show on the Fusion network:
LOL @Mediaite! Fusion? Really? SMH Y'all *know* I have a job @WakeForest right? Just call if you want to know what's up.

— Melissa Harris-Perry (@MHarrisPerry) March 11, 2016
To every single reporter currently blowing up my phone & email– "I'm not going to Fusion. Nope. No. Nah. @Mediaite full of it." Quote it

— Melissa Harris-Perry (@MHarrisPerry) March 11, 2016
Except now "nope, no, nah" has become well, yeah maybe. In an interview Tuesday morning on Buzzfeed's Another Round, Harris-Perry sure sounded like she was singing a different tune about a possible move to Fusion. Here's what she told the hosts:
"Look I think Fusion is kind of an interesting place. It's quirky, its got its challenges. There is no doubt about it, but, I actually think it's kind of a fun place and I wouldn't hate it if I did have an offer from Fusion. I've had conversations with lots of different people about lots of different things, but the idea that I was anywhere close to signing is like so bizarrely overstated.
Harris-Perry also hinted that she had an "initial conversation" with the network the she was "excited about." In the interview, Harris-Perry said she believed that the story was leaked by MSNBC President Phil Griffin to Mediaite's Concha. Harris-Perry speculated that Griffin wanted to make it look like it was her who wanted to leave MSNBC to "pursue new opportunities. "
When pressed on how she knew it was Griffin who leaked the story, she replied: "The person who wrote the piece is a guy who Phil has lunch with basically on a weekly basis and the story was quite wrong." Concha —  the Mediaite "guy who wrote the piece" — denied Harris-Perry's claims.
"I've met with Phil Griffin exactly once in my lifetime. Believe that was in late November or early December. No food was present. He didn't even offer me a Fresca. Just a high-level conversation about doing some guest work on MSNBC. If you look from there, I appeared on the network few times after we met about a month later," Concha said.
But Concha is now conceding that his reporting was not entirely accurate: "I wasn't completely right on this. I misinterpreted Melissa getting her own show on Fusion as 'a done deal' as a signed deal instead. So while she did admit she was in talks with the networks, that aspect of my report was obviously an error."
Now it may be Harris-Perry's turn. An "overstated" report, as she called it, is many miles away from "I'm not going to Fusion. Nope, No , Nah."  It seems even she is now conceding its more like "I might be going to Fusion. Maybe, could be, possibly."
Have a tip we should know? tips@mediaite.com