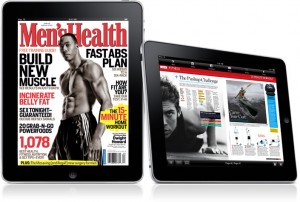 It's very easy to be skeptical of all the media lanscape-changing hype surrounding the iPad — in fact, we have not been immune to some classic cynicism ourselves. But we just had a fairly comprehensive walk-through of the Men's Health iPad application, and consider us converted. We have found media's future religion and thy name is iPad. A more complete write up is forth coming, but consider the following first reaction.
First of all, contrary to other reports, the Men's Health app does not come automatically bundled on the iPad — one must buy it for $4.99 on the App Store like one would purchase music on iTunes. And before you wince at the price (when one can consume a lesser incomparable version of at Men's Health website for free, know that its well worth the price.)
Secondly, an iPad application quickly reveals whether a media company/magazine has been forward thinking on digital platforms in the last decade or not. Case in point? Men's Health features 40 different videos built-in and custom to the iPad app. These are not videos shot exclusively for the iPad – they have been produced by the creative team driving Men's Health for years. Most importantly, all content platforms under a title – Internet, Print, Video and Social Media — can now live comfortably with one another.
Finally – some have commented that "With the iPad, you do nothing yourself." And that's why old media will love it. And that's true. But the "re-intermediaition" of content and editorial point-of-view is actually quite refreshing. Many magazines are escapist or aspirational or both. Its why Men's Health is actually great and successful, and is sort of kicking GQ's ass.
In short, the iPad is remarkably beautiful and sensual and all the over the top words you've read. Perhaps more importantly, the iPad version of magazines adds the beauty, photography, and typography of print, with the robust service of video and the ease of sharing with Social Media. Killer app anyone?
Have a tip we should know? tips@mediaite.com
Colby Hall - Founding Editor