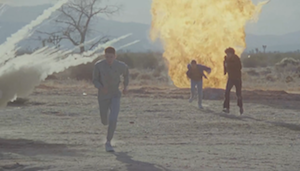 A warning to everyone who was offended by Erykah Badu's "Window Seat" music video a few weeks ago: prepare to be up in arms again. M.I.A., the Bristish singer/rapper, has a new music video for her single "Born Free" and, while it doesn't feature references to any presidents getting assassinated, it is incredibly NSFW, featuring full frontal nudity and graphic violence all in the service of a very timely immigration allegory. As Pitchfork has reported, the video has already been removed from YouTube in America. We have the full video below.
M.I.A. has always had political messages in her music. However, any new fans who just recently began following her work after seeing her hit "Paper Planes" in about 50 movie trailers a couple years ago, are in for a bit of a shock with the new video. It begins with a group of American soldiers running through an apartment building and beating up anyone in their way as they attempt to round up…someone. After they kick the door down of a closet, we finally see what minority group is being collected. Instead of any racial group, the soldiers are arresting redheaded children. That's right, this is like a much more serious and terrifying version of the South Park ginger kid episode.
The redheaded children (one as young as 12, it seems) are then loaded into a military vehicle and carted out to the desert. There, they are forced to run through a landmine field. When they hesitate, the youngest child is shot in the head. The violence only escalates from there.
The video is directed by Romain Gavras and, despite the horrible images included, it is rather beautiful. And, whether you agree with the message or not, it certainly is nice to see musicians who have actual things to say. It also gets its statement across much clearer than the aforementioned Badu video, and it didn't have to break any public nudity laws to film it. However, it appears to be a bit too provocative for some corporate tastes as M.I.A.'s Twitter feed blames Universal Music Group, her American record label, for removing the video from YouTube. Seems like a strange call on their part. Don't they know the first rule of music: controversy sells records.
You can watch the video in full below. We warn you, it contains some disturbing imagery.
(h/t Pitchfork)
Have a tip we should know? tips@mediaite.com