Michael Moore is 'Absolutely' Convinced Trump Will Go Through With Muslim Ban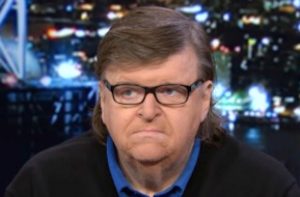 "I went through my five stages of grief months and months ago when I realized he was going to win," Michael Moore told Variety in an interview published Tuesday. Indeed, Moore was one of the few progressives on record prior to the election as believing Donald Trump would win the White House.
"I've taken him literally and seriously since day one," Moore said.
Which is why he believes the President-elect will go through with campaign trail proposals like the building of a wall along the US-Mexico border.
"You do have to take Trump at his word," Moore said. "I still hear people say, 'Oh, he's not really going to build the wall.' Oh, he is going to build it. He knows that he's got to deliver at least a version of the wall."
The same goes for a proposed Muslim ban, which Moore said "absolutely" believes Trump will enact.
"He's shown how he's going to do it," Moore said. "He's going to get away with it by making it a ban on Muslims who come from the following countries. He needs just enough cover for his crowd to say, 'Oh, he's being reasonable there. He's not banning all Muslims.'"
Also in the Variety chat, the Academy Award-winning filmmaker spoke about Meryl Streep's recent speech at the Golden Globes, deeming it apolitical.
"I had tears in my eyes," Moore said. "It was so powerfully delivered by the perfect person. She was talking about human empathy. It was not about being a Republican or a Democrat. It was about: Have you no decency, sir?"
Read the full interview with Moore here, via Variety.
[image via screengrab]
–
Follow Joe DePaolo (@joe_depaolo) on Twitter
Have a tip we should know? tips@mediaite.com
Joe DePaolo - Senior Editor