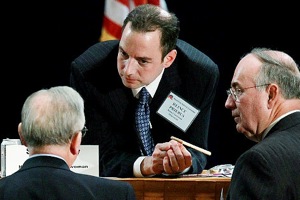 The Michael Steele era of the Republican Party is officially over. The embattled chairman, who was not expected to win reelection after a tenure marked by a regular stream of gaffes and calls for resignation, withdrew from the race yesterday, making way for his temperamental opposite, Wisconsin GOP Chairman Reince Preibus, to man the national ship.
Combative to the end, Steele left his position reminding the party of the progress Republicans made in the two years he led the party, despite his knack for becoming political satire fodder and what many in the party considered questionable spending. "I hope you all appreciate the legacy I leave, despite the noise. Despite the difficulties, we won," Steele told a crowd of supporters as he withdrew from the race, releasing his supporters for another round of voting until Preibus, in the seventh round, clinched the job.
His successor, Preibus, meanwhile entered the position with a plea for unity, telling the crowd, "we all recognize that there is a steep hill here ahead of us, and the only way we will be able to move forward is if we're all together." Unlike Steele, Preibus is routinely described as "mild-mannered" and "soft-spoken," and is expected to help the Republican Party remedy its financial and woo new donors to stock up for the 2012 elections. Keeping a low profile and letting the candidates speak for the party will certainly be a new tactic for the GOP in light of the Steele years, and it appears that in Preibus the party found precisely the diametric opposite to their current chairman they were looking for. Preibus defeated fellow candidates Maria Cino, Saul Anuzis, and Ann Wagner to nab the top spot.
Have a tip we should know? tips@mediaite.com