Michele Bachmann: My Campaign Was 'Extremely Careful' And 'Almost Mistake-Free'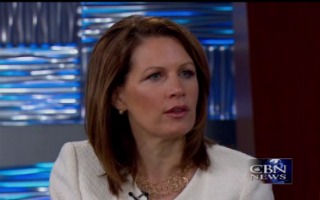 Former Republican presidential candidate and Rep. Michele Bachmann (R-MN) told the Christian Broadcasting Network that her presidential campaign was "extremely careful" and "almost mistake-free."

RELATED: NY Sen. Gillibrand Battles With Rep. Bachmann Over 'War on Women'
"What is the lesson that you think you took away from all this," asked CBN host David Brody.
"The lord called me to get into the race, and I'm glad I did," said Bachmann. She went on to say that she was partially responsible for a change of heart in Mitt Romney on the repeal of health care reform.
Bachmann criticized the media which she said covered her campaign rather critically.
"I think one thing I learned is a person has to be extremely careful with what they say," said Bachmann. "Make sure you have Elvis Presley's birthday down, because that's very important, and know where John Wayne was born. Those are two extremely important pieces of information.
"The media loves to beat everybody up," said Brody.
"What they focus on is kind of amazing, when it looks like the house is burning down around us, that's what they care about," Bachmann responded.
Brody went on to say that Bachmann ran "a pretty impeccable campaign" to which Bachmann responded "it really was."
"We were extremely careful and we were almost mistake free but for those two points," said Bachmann referring to the Elvis and John Wayne gaffes.
Bachmann dropped out of the presidential race after a disappointing finish in the Iowa caucuses on January 3 after securing a come-from-behind victory in the August Ames straw poll that briefly propelled her campaign to frontrunner status.
Watch the segment below via Christian Broadcasting Network:
h/t The Hill
Have a tip we should know? tips@mediaite.com