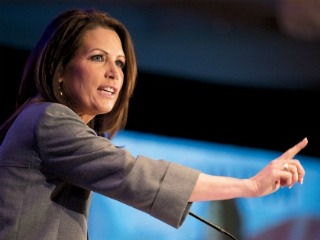 So. Now that the results of last night's Iowa caucus are in and we can all celebrate with / mumble about the winning candidates accordingly, let's focus a bit on those who didn't fare so well in The Hawkeye State.
Congresswoman Michele Bachmann, who took in 5 percent of yesterday's votes, and Texas governor Rick Perry, who brought in 10.3 percent, have both decided to cancel appearances in South Carolina.
RELATED: Iowa Caucus Results: Mitt Romney Beats Rick Santorum By Eight Votes
News of Bachmann's decision was delivered via Twitter by NBC News' James Novogrod, who added that her campaign has called a news conference to take place at 11 a.m. this morning.
That said, the AP is reporting that Bachmann told supporters last night that she intends on staying in the race, even after her campaign manager previously expressed some hesitation regarding Bachmann's future plans:
Shortly before Bachmann spoke, her campaign manager suggested she might leave the race. Asked if he could say with certainty whether she would go forward with her candidacy, Bachmann campaign manager Keith Nahigian told The Associated Press in a telephone interview, "I don't know yet."

Nahigian added, "It's hard to tell, but everything is planned."

But shortly thereafter, Nahigian said she was going "full steam" ahead.
And, during his speech last night, Perry told his audience that, rather than move on to South Carolina as originally planned, he would instead journey home to Texas to reassess his place in the race. "With a little prayer and a little reflection, I'm going to decide the best path forward," he said, adding that "I've decided to return to Texas to determine whether there is a path forward for myself in this race."
Politico's Maggie Habernan, for one, speculates that Bachmann may today announce her plans to drop out of the race… and that she may endorse Mitt Romney, last night's winner by eight votes, after having "pulled most of her punches all season" against him.
Have a tip we should know? tips@mediaite.com