Mika Brzezinski: The Media Does Have A Liberal Bias — "That's Why We Have Fox"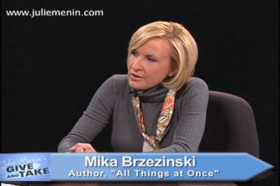 MSNBC's Mika Brzezinski was a guest on Julie Menin's Give & Take and she had a lot to say about the opinion media — that is to say, the media who pretend they're not the opinion media. Said Brzezinski of the media establishment: "I will say what people aren't saying: It's got a liberal worldview."
Brzezinski said that though "there are great people working at the networks," who work hard to remain objective, they are mostly Democrats — and it shows. "The balance is not there within the objective mainstream media. It's not. It is not." Brzezinski drew a distinction between those well-intentioned, if biased, colleagues and the "cartoonish" figures on the right and the left of the cable news divide, saying that she and her colleagues at Morning Joe make an effort to avoid those one-dimensional characterizations: "We try to be transparent about who we are and where we come from, and what our worldview is and what our knowledge base is on every issue. And we are not trying to be anything more than what we are. And that is extremely honest."
When asked by host Julie Menin if liberal bias was "seeping into the coverage" Brzezinski said emphatically that yes, it was, and suggested that journalists should declare their political affiliation — and who they voted for in the last election. "Come on, are you telling me that a reporter for a great news organization does not have opinions?" said Brzezinski. "Every reporter, every anchor, every human being that is a personality on television has opinions, and has a worldview and has a slant." Brzezinski said that audiences would appreciation the media rejecting the pretense of objectivity and declaring bias, saying "We have [to] know that the viewer's smart about that, and if you are fair and you are looking for the truth, you can be trusted. And you've got to be honest.
"The reason why we've got these extremes is a reaction to the "objective" mainstream media, that is so not objective when you have most of them being Democrats, or liberals, running it. That's why we have Fox. Because it wasn't honest. And because there was a reaction out there to this."


Julie Menin's Give and Take airs on WNBC's new 24-hour news channel, New York Nonstop, on Sundays at 7pm Eastern. See Mediaite's Rachel Sklar on Julie Menin's Give and Take here.
Have a tip we should know? tips@mediaite.com