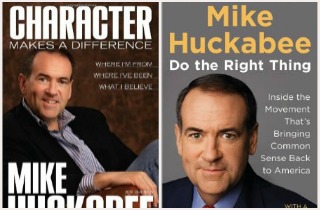 The Christian writer who has co-authored books with presidential candidate Mike Huckabee and Alabama Supreme Court Justice Roy Moore was allegedly excommunicated from his church after being accused of molesting a young girl.
John Perry co-wrote two books with Huckabee: Do the Right Thing: Inside the Movement That's Bringing Common Sense Back to America (2008) and Character Is the Issue (2007). The latter title is especially interesting given that BuzzFeed News uncovered sworn statements from the writer's ex-wife that he "admitted sexual abuse" of a female minor — a claim that was sustained by police but were found too old to prosecute.
More from the report:
"The alleged sexual battery was reported to have occurred when the victim was between the ages of 11 and 14," said Nashville police department spokesperson Don Aaron in a statement to BuzzFeed News.

"As a result of the investigation, the allegations of sexual battery were sustained, but it was determined that the statute of limitations had tolled, barring prosecution. The victim was age 18 when she first disclosed the allegations to non-law enforcement and said at that time she did not want the matter reported to the Tennessee Department of Children's Services or the police."

In a second series of lawsuits brought in a county court in Tennessee, and related to the same alleged acts of child molestation, Austin Davis, a former parishioner of Covenant Presbyterian Church in Nashville, claims that the church covered up Perry's alleged acts of child molestation and launched a campaign to silence and harass Davis.
In his lawsuit, the former church member presented minutes from a 2010 meeting that reveal Perry was excommunicated because he "has confessed to committing heinous and repetitive sin […] and has not shown evidence of repentance."
Why is this story news? Well, if the allegations are true, this would be the second close associate of Huckabee's who has engaged in sexual molestation. When Josh Duggar, son of reality TV stars and Huckabee-endorsers Jim Bob and Michelle Duggar, was revealed to have molested his sisters, the former Arkansas governor was on the front lines defending the family.
Neither Huckabee nor Perry have responded to these most recent allegations.
— —
Have a tip we should know? [email protected]