Mike Huckabee Starts New Radio Call-In Show, First Caller Revealed To Be 'Staged'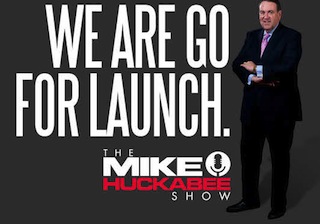 Former Gov. Mike Huckabee launched a new radio show yesterday which the network in charge, Cumulus Media Network, has positioned as a more moderate alternative to the likes of Rush Limbaugh by describing it as "more conversation, less confrontation." This has angered some conservatives including The American Spectator's Jeffrey Lord. To make matters worse, Lord is now reporting that Huckabee's first caller, who spoke effusively about how great it was to have someone like Huckabee on the radio, was actually just Cumulus executive Mike McVay.
Here's how the caller, Mike from San Francisco, began his conversation with Huckabee:
"Well Governor, let me start by saying it's great to have a different opinion and a different person on the radio and I'm very, very happy that you're doing this radio show. One of the reasons why I want to listen to your program every day is because you ran for office and you've been a politician, you have a different perspective I think."
As Lord explains in his Spectator piece, he first became suspicious when the caller managed to call in only seconds after the show's phone number was said on air. The fact that his compliments seemed to directly parallel the promotional pitches for the show didn't help.
Was this just the paranoid grousing of a Huckabee hater who already derisively calls the show "RINO Radio"? Well, apparently not. Lord explains that "after some digging," he figured it out it was McVay. He emailed the man and got no response. However, he then received a full confirmation from the executives in charge of Cumulus Media, Lew and John Dickey:
"Jeff:

Thanks for listening to the show. To your question a colleague in the company was excited about the new show and arranged to call in with the first question without Governor Huckabee's knowledge. When I learned of this I began the process of reminding my colleagues in the company that we should reserve air-time for our listeners and refrain from calling in to our own shows.

John"
Now, this will likely only further hurt Huckabee's show in the eyes of people who already didn't like it. However, it certainly isn't going to help any.
(h/t Politico)
Have a tip we should know? tips@mediaite.com