Mike Huckabee Warns: 'Evangelicals Will Take A Walk' If GOP Backs Gay Marriage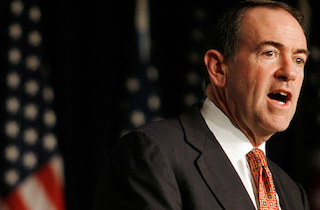 Same-sex marriage has been at the forefront of the news cycle as the Supreme Court hears arguments on Proposition 8 and the Defense of Marriage Act (DOMA). Polling has shown significant support for marriage equality, and when it comes to politics, some Republicans, too, have gotten on board. Last week, however, Mike Huckabee warned that if the GOP backs gay marriage, "evangelicals will take a walk."
Recently, Republican Sen. Rob Portman made news when he expressed his change on heart on the issue, largely due to learning his son is gay. In an interview with Newsmax, Huckabee was asked whether the Republican Party may alter its stance and support gay marriage.
"They might," he replied. "And if they do, they're going to lose a large part of their base because evangelicals will take a walk."
He continued:
"And it's not because there's an anti-homosexual mood, and nobody's homophobic that I know of, but many of us, and I consider myself included, base our standards not on the latest Washington Post poll, but on an objective standard, not a subjective standard."
Despite that, Huckabee expressed admiration for Portman, deeming him a friend. Such decisions about policy, however, need to be made objectively, he argued. To demonstrate his point, he compared the marriage debate to… basketball (excuse me while I compile a list of not-quite-the-same-thing marriage quality comparisons).
"I recognize the culture is moving away from the traditional standard, but it's almost like saying, well, we have a basketball team and nobody on the team can hit the goal that's 10 feet off the floor so we're going to lower the goal down to six feet and that way everybody can slam dunk the ball," Huckabee explained.
"So the question is, have you have improved your basketball game?" he asked. "Or have you actually just changed the standard so it looks like you're doing better?"
Have you improved your basketball game?
Watch the clip of the interview below:

Have a tip we should know? tips@mediaite.com