Military Review: Alvin Greene Is A 'Decent Person,' Discharged For Incompetence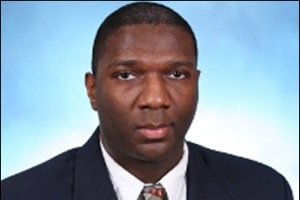 Finally, at least one of the dozens of mysteries surrounding South Carolina Democratic Senate candidate Alvin Greene has been solved: why he was discharged from military service. The short version: he was so incompetent he put sensitive military information in jeopardy.
According to the AP (via Hot Air), his military reviewer wrote that Greene was able to complete simple tasks but had trouble with more complicated ones, and could not be trusted with secret military information:
"Greene is 'usually capable of handling mundane tasks with supervision" but is "not able to adapt to any changes to daily routine,' the reviewer wrote, also noting that Greene had received multiple disciplinary actions for failing to perform his duties.

Greene was also written up for posting sensitive information on a military Internet server, a mistake that resulted in a three-day work stoppage. Records showed Greene was kept at Shaw while the rest of his unit deployed after leadership "recognized his inability to contribute to the wartime mission."…

The reviewer also wrote Greene 'required a daily to-do list' to perform basic duties and had a 'consistent inability to follow instructions or maintain basic job knowledge.' Most seriously, the reviewer wrote that Greene would represent "a threat to others" because of his inability to grasp the basics of military training."
The reviewer concluded that "While Alvin is a decent person, he lacks the basic skills necessary for promotion," the summary said. So while Greene was far from being the American hero he claims to be, he was not removed from his positive for anything more malicious than simple inability to follow directions.
Have a tip we should know? tips@mediaite.com