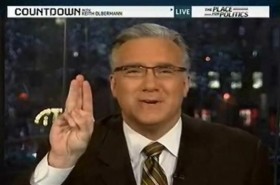 The Daily Caller has published the latest of its Daily Journolist Leaks, and this time, the supposed liberal cabal is eating one of their own. Countdown host Keith Olbermann is the subject of this installment, in which the J-listers trash him as "sexist" and "misogynist," mainly over his treatment of Carrie Prejean and Hillary Clinton. While I disagree with the Daily Caller's publication of the emails, and their petulant handling thereof, this round also illustrates what angers me about Journolist and Olbermann.
First of all, the contents of Journolist were intended to be private and off-the-record. While Daily Caller may have a fig leaf on the off-the-record thing if the emails were leaked by a 3rd party (a mighty big IF when you consider that a Daily Caller reporter was on Journolist), that doesn't make it right.
The Olbermann emails center around his treatment of Carrie Prejean, and of then-Senator Hillary Clinton. Some highlights:
The Nation's Katha Pollitt began the group's rant. "He and Michael Musto did this whole long riff about beauty contestant Carrie "opposite marriage" Prejean's breast implants, stupidity, breast implants, tacky clothes, earrings, breast implants. They went on and on about how she was "part plastic" and pathetic.  You'd think they were celibate vegans who spent their lives zen meditating.  It was just a whole TV humiliation of her, and it made me feel sorry for her, which wasn't easy," Pollitt said.

…Julian Zelizer, a Princeton professor and CNN contributor, said Olbermann's root problem is his misogyny. "I can't take him anytime. I think to write off his mysogyny as limited to Musto is just not accurate. That very much defined much of how he talked about Clinton as well as others."
What pisses me off here is that I have consistently, respectfully, and fairly pointed out that Olbermann's series of sexually-charged attacks against Prejean were unacceptable, and were undermining his otherwise excellent work. My Mediaite colleague, Rachel Sklar, also called Olbermann out during the 2008 campaign for his comments about Hillary Clinton, comments for which he apologized.
I can't speak for Rachel, but I know I got nothing but hostility from my fellow liberals, who didn't see the use in defending Prejean, or in criticizing Olbermann. Better to let him sit there and get smelly, instead of telling him he'd stepped in it. All the while, these same folks were happily outraged about it behind the scenes. This is not strictly a liberal phenomenon, as you don't see very many conservatives rushing to denounce Andrew Breitbart in public for smearing Shirley Sherrod, do you?
Keith Olbermann, meanwhile, frequently uses Journolisters as guests and contributors on his show, a gravy train that might now end. Aside from Dave Weigel, possibly, Olbermann has shown little desire to be disagreed with.
Have a tip we should know? tips@mediaite.com