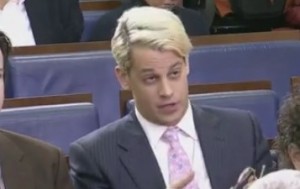 Breitbart's Milo Yiannopoulos has been permanently suspended from Twitter for "targeted abuse."
Ghostbusters star Leslie Jones was on the receiving attempt of some nasty attacks that led her to leave Twitter. Yiannpoulos was one of the people going after her.
See, he wrote a fairly negative review of Ghostbusters titled "Teenage Boys With Tits: Here's My Problem With Ghostbusters." Here's what he said about Jones in particular:
Patty is a two dimensional racist stereotype by even the most forgiving measure.

Patty is the worst of the lot. The actress is spectacularly unappealing, even relative to the rest of the odious cast. But it's her flat-as-a-pancake black stylings that ought to have irritated the SJWs. I don't get offended by such things, but they should.
He ended up getting into it with Jones on Twitter. In response to her tweeting this…
Ok I have been called Apes, sent pics of their asses,even got a pic with semen on my face. I'm tryin to figure out what human means. I'm out

— Leslie Jones (@Lesdoggg) July 18, 2016
..Yiannopoulos tweeted this:

And that wasn't the end of it: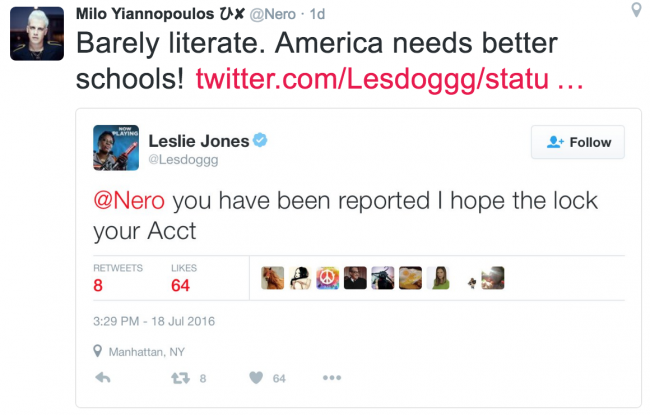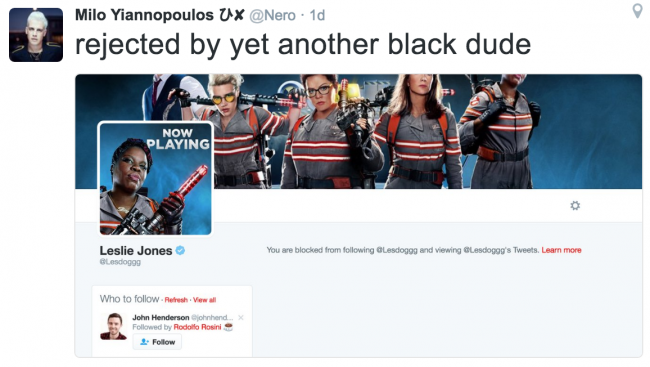 Jones informed quite a bunch of people, Yiannopoulos included, that she's blocking them for viciously attacking her. Yiannopoulos told Heat Street, "No, of course, I don't have any regrets. But feminists on the other hand should have regrets that they have taught strong women that they are victims and attacked people for having different opinions to them on Twitter."
Well, after being temporarily suspended before, this time his suspension is permanent. Here's Twitter's statement, per BuzzFeed:
People should be able to express diverse opinions and beliefs on Twitter. But no one deserves to be subjected to targeted abuse online, and our rules prohibit inciting or engaging in the targeted abuse or harassment of others. Over the past 48 hours in particular, we've seen an uptick in the number of accounts violating these policies and have taken enforcement actions against these accounts, ranging from warnings that also require the deletion of Tweets violating our policies to permanent suspension.

We know many people believe we have not done enough to curb this type of behavior on Twitter. We agree. We are continuing to invest heavily in improving our tools and enforcement systems to better allow us to identify and take faster action on abuse as it's happening and prevent repeat offenders. We have been in the process of reviewing our hateful conduct policy to prohibit additional types of abusive behavior and allow more types of reporting, with the goal of reducing the burden on the person being targeted. We'll provide more details on those changes in the coming weeks.
Breitbart reported on this too, and Yiannopoulos had this reaction:
"With the cowardly suspension of my account, Twitter has confirmed itself as a safe space for Muslim terrorists and Black Lives Matter extremists, but a no-go zone for conservatives."

"Twitter is holding me responsible for the actions of fans and trolls using the special pretzel logic of the left. Where are the Twitter police when Justin Bieber's fans cut themselves on his behalf?"

"Like all acts of the totalitarian regressive left, this will blow up in their faces, netting me more adoring fans. We're winning the culture war, and Twitter just shot themselves in the foot."

"This is the end for Twitter. Anyone who cares about free speech has been sent a clear message: you're not welcome on Twitter."
He also shared this email he got: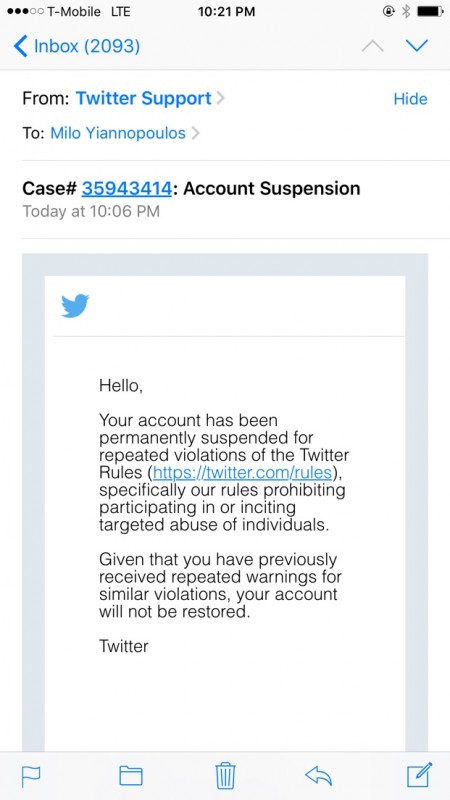 And now #FreeMilo is trending on Twitter:
Liberal thought police jerks at Twitter have banned @Nero. Pathetic. #FreeMilo

— Phil Kerpen (@kerpen) July 20, 2016
He's not my cup of tea. He can be very crass and offensive. But this is America & Twitter ain't beanbag.#FreeMilo

— Guy Benson (@guypbenson) July 20, 2016
Unreal. @twitter has permanently banned Milo. He did not break any TOS. The censorship of conservatives is out of control. #FreeMilo

— Jeremy K. Nolt (@fabrightwing) July 20, 2016
To be crystal clear, they're really coming for Milo because of his political beliefs. This is just the beginning.#FreeMilo

— Dave Rubin (@RubinReport) July 20, 2016
"Hey let's suspend our platform's most popular conservative while conservatives are getting all fired up at a huge convention" #FreeMilo

— Allum Bokhari (@LibertarianBlue) July 20, 2016
Jack Dorsey is deluding himself if he thinks free speech defenders will let this slide. They won't. Not this year. #FreeMilo #FreeNero

— Allum Bokhari (@LibertarianBlue) July 20, 2016
Good lord, Twitter will never get it. An anti-free speech communication platform will lose its value. Again. Happy trading. #FreeMilo

— Steven Crowder (@scrowder) July 20, 2016
[image via screengrab]
— —
Follow Josh Feldman on Twitter: @feldmaniac
Have a tip we should know? tips@mediaite.com
Josh Feldman - Senior Editor