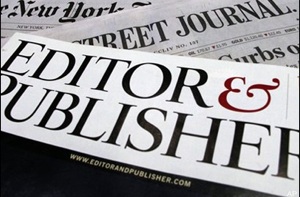 Last week we reported the sad news that Editor & Publisher would be shutting down by the end of the year. We noted how the demise of the 125 year-old newspaper trade magazine was "a sign of how badly that industry has been hammered over the past few years, and further calls into question its future survival." Well not so fast! Today E&P announced plans to publish their January issue, and teases in the headline: "Hope Remains?" Could this be a Christmas miracle?
The brief (and hopeful) online announcement reads as follows:
NEW YORK Due to overwhelming reader and advertiser demand, Editor & Publisher will publish its next issue, the January 2010 edition, as planned, Editor Greg Mitchell announced today.

It will be mailed to subscribers around January 4.

But it may still be the final issue of E&P, after 125 years.

In a surprise move, E&P's parent, the Nielsen Co., revealed last Thursday that the magazine, along with sibling Kirkus Reviews, would be shut down at the end of this month, and many assumed no more issues would be printed.

But the outpouring of support for E&P from within and outside the newspaper industry, and from readers and advertisers alike, led to a decision by staffers to go forward with the January issue, and continuing to post stories at E&P Online until January 1 when, under current plans, the end of the line will arrive.

Meanwhile, a number of outside companies and individuals have expressed interest in possibly keeping E&P going, so stay tuned for updates. Thanks again for the thousands of messages of support and media/Web coverage.
Frank Capra couldn't write a better ending. Let's hope it comes true!
Have a tip we should know? tips@mediaite.com