Mississippi Officially Ratifies 13th Amendment Banning Slavery… 148 Years Later
Mississippi Officially Ratifies 13th Amendment Banning Slavery..148 Years Later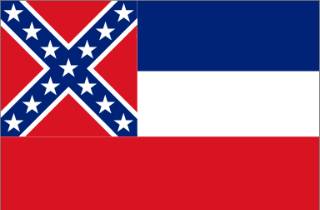 It only took 148 years, but the state of Mississippi has officially joined post-slavery America by submitting its papers to ratify the 13th Amendment abolishing slavery to the U.S. Archivist.
The state was the last to ratify the amendment, voting unanimously in 1995 to pass the fabled document abolishing slavery in the United States. But a clerical error resulted in the papers never being submitted to the Office of the Federal Register.
"Mississippi ratified the amendment in 1995, but because the state never officially notified the US Archivist, the ratification is not official," one particularly concerned citizen had discovered while researching the amendment.
The citizen passed along that information to a friend, Ken Sullivan, who became interested in finally making his state's ratification official after seeing Lincoln in theaters. The rest of the story, as told by the Clarion-Ledger:
He knew he would do what he could to ensure his native state officially ratified the amendment. "I felt very connected to the history," he said.

He tracked down a copy of the 1995 Senate resolution, introduced by state Sen. Hillman Frazier, D-Jackson, who had been upset to learn Mississippi was the only state that had never ratified the 13th Amendment.

The resolution passed both the Mississippi Senate and House.

"It was unanimous," Frazier recalled. "Some didn't vote, but we didn't receive a 'nay' vote."

The last paragraph of the resolution called on the secretary of state to send a copy to the Office of the Federal Register.

Why the copy was never sent in 1995 remains unknown.

"What an amendment to have an error in filing," said Dick Molpus, who served then as secretary of state. "Thanks to Ken Sullivan for being a good citizen in bringing this oversight to light, so it can be corrected."

That "Lincoln" played a role pleases him, he said. "It was one of the most inspirational movies I've ever seen."

After seeing the film, Sullivan contacted the office of Secretary of State Delbert Hosemann, who agreed to file the paperwork and make it official.

On Jan. 30, Hosemann sent the Office of the Federal Register a copy of the 1995 Senate resolution, adopted by both the Mississippi Senate and House.

On Feb. 7, Charles A. Barth, director of the Federal Register, wrote back that he had received the resolution: "With this action, the State of Mississippi has ratified the 13th Amendment to the Constitution of the United States."
Becoming the final state to ratify the amendment, Mississippi closes a near century-and-a-half-long chapter of American history. Following the amendment's passing in December of 1864, the states that rejected it began to officially ratify: New Jersey in 1866; Delaware in 1901; Kentucky in 1976; and now Mississippi.
[h/t Clarion-Ledger]
— —
>> Follow Andrew Kirell (@AndrewKirell) on Twitter
Have a tip we should know? tips@mediaite.com