Mitt Romney Had Quite A Heroic Moment In 2003, But His Campaign Isn't Mentioning It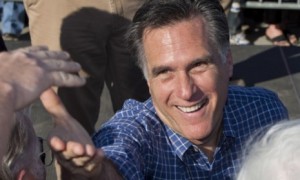 Back in 2003, Mitt Romney had a heroic moment when he helped rescue a family after their boat capsized. It isn't a story that's made the media rounds, but on Monday BuzzFeed dug it out of the archives and pointed out how the story serves Romney well.
From the original 2003 Boston Herald story:
"We heard a whole bunch of screaming," said Josh Romney, who immediately hopped onto his Jet Ski. "We tore out of there and my dad hopped on the other Jet Ski and came out right after us."
[…]
The governor pulled the two younger women aboard his three-seater Jet Ski and zoomed back to shore, while his sons helped the mother of the family onto their vehicle.
In the middle of the rescue, the governor actually took a dunking himself — thrown off the Jet Ski as one anxious boater scrambled aboard and tipped the craft off-balance.
The rescuing Romneys also managed to snatch the family dog, McKenzie, from a watery grave — grabbing the Scottish terrier first because it was the only passenger without a lifejacket.
Even the dog!
While aware of the story, I, like many others, have largely forgotten it (or didn't know about it). BuzzFeed remarks that "in a primary where opponents have attempted to cast Romney as a cold, ruthless, uncaring elitist, it shows Romney at his most heroic." This, of course, is true. The incident illustrates a human, selfless side of Romney.
The Romney campaign's choosing not to publicize it also paints Romney in a positive light though. In an increasingly no-holds-barred primary, he's avoiding tactless promotion of it.
Have a tip we should know? tips@mediaite.com