Mitt Romney Raises $14.2 Million In Third Quarter…To Rick Perry's $17 Million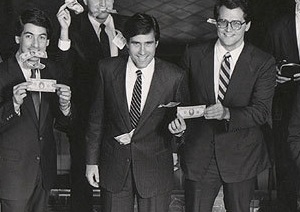 Former Massachusetts Gov. Mitt Romney continues to see evidence of reluctant support from conservatives, as his third quarter fundraising total of $14.2 million fell well short of Texas Gov. Rick Perry's $17 Million take, despite the fact that Perry didn't announce his candidacy until halfway through the period, and now languishes far below Romney in the polls. Meanwhile, newly-minted frontrunner Herman Cain hasn't announced his Q3 numbers yet, but told CNN's Erin Burnett that his campaign will announce "several hundred thousand dollars in cash on hand."

As Cain noted, though, his campaign has had very little time to take advantage of his rocket ride in the polls, so his eventual Q3 total might not be a very accurate indicator of support.
Romney's opponents might see the disparity between Romney's and Perry's totals as validation of a message that they've been delivering for some time, the reluctance of conservatives to hop aboard the good ship Romney. Former Obama spokesman Bill Burton released yet another memo today underscoring that theme:
What's the matter with Romney?

Rick Perry's sudden decline and Herman Cain's concurrent surge reinforces an important point about the primary: Republican voters are still desperately shopping for an alternative to Romney. While he may well end up the nominee, it is only because their voters will have exhausted all other options.
The memo goes on to cite data that shows, not only the flurry of lead-changes this year while Romney's support stayed essentially flat, but also that Romney's favorables haven't gone up since 2008, and that Romney supporters are most likely to change their minds about their candidate.
The fourth quarter could be a different story for Romney, though. Unless Rick Perry somehow manages to quickly turn around his slide in the polls (unlikely after yet another poor debate performance this week), many of the donors who have been hanging back, or hedging with Perry, could move into the Romney column. While Herman Cain will doubtlessly do well with small donors, the big establishment money will probably line up against his upstart candidacy, as convincing them that he can beat Barack Obama is an impossibly heavy lift.
Of course, all of this Republican fundraising news happens against the backdrop of a Barack Obama reelection campaign that raised over $70 million in the third quarter, but which will also face an unprecedented amount of opposition from independent groups, with no limits on donations, and no duty to disclose their individual donors.
When it comes to the influence of money in politics, I agree with most of what this guy says (except maybe the spending caps; I'm not a pinko!)
Have a tip we should know? tips@mediaite.com